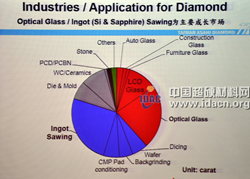 zhengzhou, China (PRWEB) May 12, 2014
According to iAbrasive report, The Cross-Strait Superhard Material Symposium saw its grand opening in Jinghong city, Yunnan province recently. Chen Zongqi, senior R&D Manager from Taiwan Asahi Diamond Industrial Co., Ltd. delivered a special report named "An Analysis on Diamond Tool Market in Taiwan".
At the beginning of the symposium, Chen analyzed the overall industry proportion in Taiwan. He pointed out that since late 1970, Taiwan began to focus on the development of Information Electronics, Precision Machinery Equipment, Photoelectricity, etc. After years of trial and error, Taiwan has developed into a industry system dominated by consigned processing and taken Information Electronic as its pillar industry, among which smart phone, LCD panel, semiconductor and solar energy dominate the market.
Compared with the mainland market, the diamond tools market in Taiwan is much smaller with a market size from 8,000,000,000 to 8,500,000,000 dollars, among which diamond tools made in Taiwan (including export sales) takes up NT 4,500,000,000 to 5,000,000,000 dollars (New Taiwan Dollar); those relying on outside Taiwan Island accounts for NT 3,000,000,000 to 3,500,000,000 dollars, of which the diamond tools from Japan holds the largest share, 40% to 45% of the whole.
In 2013, Taiwan imported a total of 74,055,000 carats diamond, 2,800,000 carats being CBN. 70% of the diamonds were applied in semiconductor industry, 14.5% in machinery and the rest in transportation, construction and other industries. As is reflected in the pie chart.
The raw material market share of Taiwan superhard materials totaled 11,810,000 dollars. CVD and monocrystalline together were 2,600,000 dollars, occupying 22%; Drill and grinding wheel were 34,800,000,000 dollars, making up 29%; the market share of diamond micron was 1,500,000 dollars, which formed 13% of the whole; last but not least were the CBN and PCBN, the market share were respectively 840,000 and 400,000 dollars, the proportion being 7% and 3% separately.
Seen from the whole, the products of Taiwan Asahi Diamond Industrial Co., Ltd. have multiple applications in various industries and its diamond tool is stepping into a stage with high precision and fast growing.—iAbrasive report
For more information about abrasive and diamond news and products, please visit: http://www.iabrasive.com/