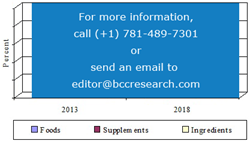 Global Market for Probiotics to Reach $36.7 Billion in 2018
Wellesley, Mass., (PRWEB) May 12, 2014
BCC Research (http://www.bccresearch.com) reveals in its new report, THE PROBIOTICS MARKET: INGREDIENTS, SUPPLEMENTS, FOODS, the global market for probiotic ingredients, supplements, and foods is expected to grow to $36.7 billion by 2018, with a five-year compound annual growth rate (CAGR) of 6.2%. The supplements category, the fastest growing segment, is expected to register a significant CAGR of 11.5%
Probiotics are used in the manufacture of dietary supplements that are sold in the form of capsules, tablets, powders, topical pastes and gels for human use as well as in animal feed for pets and farm animals. The foods category, by far the largest segment in the overall market is expected to reach $33.5 billion by 2018, and register a CAGR of 6%.
However, the supplements segment, which was valued at nearly $1.2 billion in 2013, is projected to jump to $2 billion in 2018.
"Companies with the right mix of access to proprietary probiotic strains, appropriate processing technologies and distribution networks dominate the industry, and are successfully expanding the range of probiotic-enhanced products globally," says BCC Research food and beverage analyst Rachel Agheyisi. "However, as probiotics go mainstream, regulatory oversight is tightening, as exemplified by the situation in the European Union."
THE PROBIOTICS MARKET: INGREDIENTS, SUPPLEMENTS, FOODS provides an overview of the global probiotics market, with coverage of the manufacture of probiotics as ingredients and their applications in dietary supplements and foods. It includes analyses of global market trends, with data from 2012 and 2013, and projections of CAGRs through 2018. The report discusses the importance of scientific research, product innovation, consumer awareness and preferences, and government regulatory requirements, and includes a focus on probiotic-enhanced products designed for human use, as well as the market potential for products developed for pets and veterinary animals. In addition, it examines historical trends in global and regional sales of probiotics, industry structure, patents and technologies, and current government regulatory requirements that are relevant to the industry. Company profiles of major players in the industry are also included.
This report is intended for anyone with an interest in where the probiotics industry is headed over the next five years.
Editors and reporters who wish to speak with the analyst, should contact Steven Cumming at steven(dot)cumming(at)bccresearch(dot)com.
About BCC Research
BCC Research publishes market research reports that make organizations worldwide more profitable with intelligence that drives smart business decisions. These reports cover today's major industrial and technology sectors, including emerging markets. For more than 40 years we've helped customers identify new market opportunities with accurate and reliable data and insight, including market sizing, forecasting, industry overviews, and identification of significant trends and key competitors. We partner with analysts who are experts in specific areas of industry and technology, providing unbiased measurements and assessments of global markets. Our clients include the top companies in industries around the world as well as universities, business schools, start-ups, consulting firms and investment companies. BCC Research is a unit of Eli Research LLC. Visit our website at http://www.bccresearch.com. Contact us: (+1) 781-489-7301 (U.S. Eastern time), or email information(at)bccresearch(dot)com.
Data and analysis extracted from this press release must be accompanied by a statement identifying BCC Research LLC, 49-2 Walnut Park, Wellesley, MA 02481, Telephone: (+1) 781-489-7301; Email: editor(at)bccresearch(dot)com as the source and publisher. Thank you.