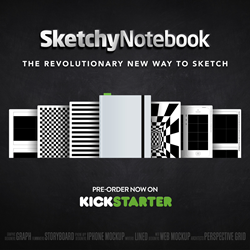 I wished I could combine free-form writing, mock-ups and notes all into one simple book.
Taipei, Taiwan (PRWEB) May 13, 2014
It would seem the world is not happy with the current selection of notebooks on the market, or at least that's what a string of recent viral Kickstarter campaigns would indicate. With the ongoing frenzy surrounding SketchyNotebook, which last week surpassed its $15,000 funding goal within the first 7 days of its 45 day campaign, it's obvious notebook enthusiasts are hungry for new notebooks.
Stationery is a $4.3 billion dollar industry in the U.S., according to IBISWorld, and with the recent IPO valuation of Italy's Moleskine at $628 million dollars, it's easy to understand the demand for quality notebooks. Perhaps for this reason, a string of wildly popular notebooks such as Baron Fig and Wipebook found their wings via crowdfunding.
Created by Tim Tu from Taiwan, SketchyNotebook is the most recent addition to the brotherhood of quality stationery to come out of Kickstarter. SketchyNotebook picks up where previous notebooks left off, offering a premium quality book with unique template inserts allowing graphic designers, web designers and hobbyists alike to create precise and accurate drawings and mockups with a single notebook.
Prior to SketchyNotebook's invention, working with templates was a matter of using pre-printed template paper, which was then bound together after use to create an organized booklet. Allowing users to slide PVC templates under sheets while drawing creates a perfect guide that, once removed, results in an exceptionally organized sketch.
With SketchyNotebook surpassing its initial goal of $15,000 by nearly $11,000, and with an entire month of funding left, it is clear the world wants this type of notebook innovation. The notebook's combination of quality paper, a lay-flat binding, easily tearable sheets and industry specific templates is proving to be one of Kickstarter's most successful stationery campaigns ever.
"Being a professional designer and an artist, I found myself with a huge collection of notebooks for specialized purposes," says Tim Tu, the creator of SketchyNotebook. "I wished I could combine free-form writing, mock-ups and notes all into one simple book". Many prototypes and a year later he had the notebook he had always wanted. Judging by the enthusiasm on Kickstarter, many others agree.
"The notebook market is odd. There are only a few big players, each offering a similar version of the same "premium" notebook," Tim says. Makers like Moleskine and Rhodia market their luxurious paper and covers. SketchyNotebook raises the bar for the entire industry by not only using premium materials, but also by bringing true innovation to the market.
SketchyNotebook has 240 pages and also contains easily tearable sheets so projects can be removed from the book with a clean edge but without harming the binding. While other notebooks are still using old-fashioned string bindings, SketchyNotebook contains a unique 180 degree fold-flat binding which provides a comfortable, level writing surface.
The crowdfunded notebook crowd is a competitive one, but with the addition of its unique design templates, SketchyNotebook truly is the one notebook to rule them all.
Check out all of SketchyNotebook's cutting edge features at https://www.kickstarter.com/projects/timtwo/sketchynotebook