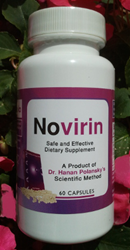 'As the price of drugs continues to hit the public where it hurts, we believe individuals should begin looking at affordable remedies that are proven to work.' - Mike Evans, polyDNA
Rochester, NY (PRWEB) May 17, 2014
"Since October 2007 the cost of brand-name medicines has soared, with prices doubling for dozens of established drugs that target everything from multiple sclerosis to cancer, blood pressure, and even erectile dysfunction, according to an analysis conducted for Bloomberg (1)." These high costs also affect antiviral drugs normally used to treat herpes simplex virus (HSV) infections. "During the past three years, prices of antiviral drugs have increased at an estimated average annual rate of 7.4%. Although they have low volatility, the increasing prices of antiviral drugs have been unfavorable for buyers, primarily thanks to patent activity." (See the IBISWorld's Antiviral Drugs Procurement Research Report, published October 2013) (2). polyDNA recommends that individuals with a herpes infection talk to their doctors about the affordable natural HSV remedies, Gene-Eden-VIR and Novirin. The formula of these natural antiviral products was shown to reduce herpes symptoms in two separate post-marketing clinical studies that followed FDA guidelines.
While the costs of drugs for most major diseases are increasing, doctors are learning to become advocates for their patients' wallets. "Doctors are for the first time exploring ways to better educate patients on the gains and costs that can be expected from the drugs they prescribe. A leading organization of cancer doctors, the American Society of Clinical Oncology, is working on an algorithm for rating the cost-effectiveness of expensive oncology drugs and will urge physicians to use the system to discuss the costs with their patients (1)."
polyDNA agrees with this trend and hopes it continues. In order to encourage this trend, polyDNA recommends Gene-Eden-VIR and Novirin as the most affordable means of treating a latent herpes infection.
To help customers who suffer from herpes infections, polyDNA compared the cost of Valtrex, Acyclovir (Zovirax), and Gene-Eden-VIR. The first two are FDA approved medications while the third is a natural, antiviral remedy. The first two target the active herpes virus, while the third was designed to target the latent virus. According to goodrx.com, the cost of a month's supply of Valtrex (90 pills), one of the most common anti-herpes medications, is $1401.00 for the brand name at the CVS Pharmacy. (1) The cost of the generic brand is only slightly less. While Zovirax (Acyclovir) is significantly cheaper, this herpes medication still costs at least $148.41 for oral suspension. (See GoodRx.com) (3).
The Gene-Eden-VIR/Novirin formula is the only natural antiviral product that was tested according to FDA guidelines for safety and efficacy. A month's supply of Gene-Eden-VIR is $42.99 and the cost of Novirin is $52.99. That's much cheaper than Zovirax, and well over $1,000 cheaper than Valtrex.
Novirin shares the same formula as Gene-Eden-VIR. The difference between the two is that Novirin has higher quality, more expensive ingredients. The Novirin/Gene-Eden-VIR formula was tested in two post-marketing clinical studies published in September 2013 and March 2014, respectively, in the peer reviewed medical journal Pharmacy & Pharmacology (4).
Interested individuals can view the two published studies here, http://cbcd.net/Gene-Eden-VIR-Clinical-Study.php and http://cbcd.net/Gene-Eden-VIR-Decreases-Fatigue-Clinical-Study.php.
Up to 70% of those studied reported a decrease in symptoms associated with CMV infection, and users of the Novirin/Gene-Eden-VIR formula experienced an increase in overall health (4).
Each ingredient of Gene-Eden-VIR and Novirin was chosen through a scientific approach. Scientists scanned thousands of scientific and medical papers published in various medical and scientific journals around the world to identify the highest quality, safest, most effective natural ingredients that target latent viruses.
A second clinical study showed that the Novirin/Gene-Eden-VIR formula decreased physical and mental fatigue. (See Pharmacology & Pharmacy, from March, 2014) (5).
"As the price of drugs continues to hit the public where it hurts, we believe individuals should begin looking at affordable remedies that are proven to work. We recommend that individuals infected with herpes talk to their doctors about Gene-Eden-VIR and Novirin. These natural antivirals were designed to help the immune system target the latent herpes virus." - Mike Evans, polYDNA
To learn more about Novirin, visit http://www.novirin.com and about Gene-Eden-VIR, visit http://www.gene-eden-vir.com.
All orders of these products are completely confidential, and no information is shared or sold to any third party. Privacy is assured.
References:
(1) Big Pharma's Favorite Prescription: Higher Prices. Published on May 8th, 2014.
http://www.businessweek.com/articles/2014-05-08/why-prescription-drug-prices-keep-rising-higher
(2) Purchasing Antiviral Drugs - Procurement Category Market Research Report. Published on October 2013.
http://www.ibisworld.com/procurement/antiviral-drugs.html?partnerid=prweb&vsmaid=431
(3) Goodrx.com - Prices for 200 ml of 200mg/5ml Zovirax oral suspension (brand).
http://www.goodrx.com/acyclovir#/?filter-location=&coords=&label=Zovirax&form=oral+suspension&strength=200mg&quantity=custom&qty-custom=30
(4) Gene-Eden-VIR Is Antiviral: Results of a Post Marketing Clinical Study. Published in September 2013. http://www.cbcd.net/Gene-Eden-VIR-Clinical-Study.php
(5) Gene-Eden-VIR Decreased Physical and Mental Fatigue in a Post Marketing Clinical Study That Followed FDA Guidelines; Results Support Microcompetition Theory. Published in March 2014. http://www.cbcd.net/Gene-Eden-VIR-Decreases-Fatigue-Clinical-Study.php
polyDNA is a biotechnology company that develops dietary supplements using the unique scientific method developed by Dr. Hanan Polansky, which is based on Computer Intuition.
In addition to his unique scientific method, Dr. Polansky published the highly acclaimed scientific discovery, called Microcompetition with Foreign DNA. The discovery explains how foreign DNA fragments, and specifically, DNA of latent viruses, cause most major diseases.
polyDNA developed Novirin, an antiviral natural remedy that helps the immune system kill latent viruses.