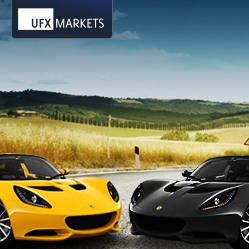 "Traders have two main tools at their disposal: fundamental and technical analysis, the art and science of trading" says Dennis de Jong, Managing Director at UFXMarkets
London, UK (PRWEB UK) 15 May 2014
It's now two weeks since UFXMarkets launched the Lotus Elise Trading Competition that will see one lucky Trader win a Lotus Elise sports car in June. The regulated online broker's recent partnership with TopGear.com inspired the sports-car-giveaway, but a Lotus Elise was chosen for the way it balances art and science:
"Traders have two main tools at their disposal: fundamental and technical analysis, the art and science of trading," says Dennis de Jong, Managing Director at UFXMarkets. "Even if they have a preference, we encourage our Traders to be aware of both methodologies, so they can master a range of market conditions. The Lotus Elise has attractive fundamentals and excellent technical specifications, and we considered the sassy roadster to be the perfect prize for our Traders."
The Lotus Elise accelerates from 0-60 mph in six seconds and can reach top speeds as high as 150mph, making it an instant favourite with young car lovers when it was introduced in 1996 and ever since. UFXMarkets Traders have their sights set on a 3-door, 6-speed Aspen White Lotus Elise with a 4-cylinder, 1.6 litre DOHC engine.
Traders will earn a guess for every five positions they open before midnight on May 31st, at which point the really kicks into first gear as Traders try to predict the closing price of either Gold or Oil at the end of the first trading week in June.
There's still plenty of time to get involved and just five trades could be enough to win the car. Enter the UFXMarkets Lotus Elise Trading Competition at ufxmarkets.com/topgear.
About UFX Markets
Since its establishment in 2007, UFXMarkets has become one of the world's leading online Forex brokers and investment networks, specializing in trading commodities, currencies, CFDs and indices. A Cyprus Investment Firm licensed and regulated by CySEC and a member of the European Union Securities and Exchange Commission, UFXMarkets guides traders with a wealth of financial resources and a professional team of financial experts with a combined 50 years of Forex experience.