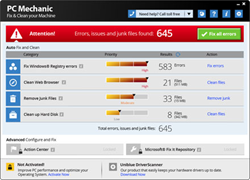 (PRWEB) May 12, 2014
PC Mechanic is built on a very simple, yet effective principle: to fix and clean PCs. Starting by giving the PC a thorough scan, PC Mechanic then enables the user to make the most of four powerful features to get the maintenance process going:
Fix Windows Registry Errors: PC Mechanic's powerful inbuilt registry cleaner allows it to scour the Windows registry and purge it of invalid registry entries and errors, thereby reducing system instability.
Clean Web Browser: The Clean Web Browser feature combs through the often unnecessary files rendered through normal web browsing, these including cache files and cookies. This feature helps users keep tabs on their data, helping users address certain privacy/security concerns.
Remove Junk Files: The Remove Junk Files feature identifies the unneeded files littering the hard disk and taking up precious space, these including temporary files, event logs, memory dumps and CHKDSK fragments.
Clean Up Hard Disk: System files like backups and restore points are created in the event of a change to the PC's system. The Clean Up Hard Disk feature removes obsolete backups or restore points and keeps their most recent version. These versions in particular are usually of interest to the user.
The software also ties in with two essential Microsoft® features, affording users ease of use, and giving them the utmost in complete PC maintenance:
Action Center: PC Mechanic provides quick and easy access to Microsoft's Action Center. This important feature comprises some critical system and third-party functionality, such as antivirus, firewall, and backup preferences.
Microsoft Fix It Repository: "Fix Its" are scripts generated by Microsoft to automatically carry out adjustments to the system and save the user the cumbersome sequence of opening up tools and trying to fix any problems themselves. PC Mechanic offers the user easy access to the official Fix It Repository.
These features, packed in with PC Mechanic's intuitive and easy-to-use interface, mean that users can start the process of fixing and cleaning their systems with the mere click of a button. Try PC Mechanic now or learn more about it here.
About Uniblue
Uniblue Systems Limited is a creator and provider of award-winning software products designed to deliver superior performance and stability to PCs everywhere. Uniblue has risen to be known as the thought leader in the utility software market. The company's products, services, free resources and help guides such as Processlibrary.com are recommended by IT experts as definitive reference points for ensuring consistent computer functionality. Uniblue is a customer-oriented company and provides support in several languages. Uniblue software benefits do not end at great software - customer satisfaction is a priority which Uniblue takes pride in. Uniblue offers a 60-day money back satisfaction guarantee for all its purchased products.