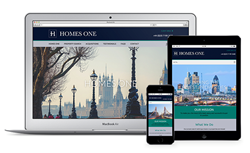 We understand what property means here, why it is so important to different people, and how and why it is constantly changing
London (PRWEB UK) 14 May 2014
The launch one of London's elite buying consultancies websites, http://homesone.co.uk/, acknowledges how difficult it is to purchase London property well. It then explains how employing Homes One can make it easy. The new website breaks down the process; step by step to explain what the property buying agent does in order to put their client at a huge advantage.
The directors chose a "hands on" approach to the design and the development of the site. The brief was to focus on customer experience and meet the expectations of a modern and unique site at the same time as being easy to navigate. Homes One want the site to represent the development which they have achieved on line and affirm them as a leading London buying agent.
The Areas We Cover tab gives some inside information. It hosts some pros and cons about the areas Homes One knows best and says what one should expect to pay per square foot. There will be more inside information to come with newsletters and reports to be regularly hosted on the site.
A free consultation is offered for anyone that would like to buy in London but are not sure whether it is the right decision to use a buying agent. In this consultation one of the directors, Karim Bazzi or Mark Wells will offer advice and explain how they may be of service.
Karim Bazzi, founding Partner of Homes One explains "Homes One is renowned for our personal relationships with our clients and the agents that we work with. This new site reflects that our strengths are not only in that. We are utilising modern technology to give an even better client experience.
Mark Wells, Partner, "We get London for what it is, where it is going, and why it is great. We understand what property means here, why it is so important to different people, and how and why it is constantly changing. That's why so many apparently different people feel we truly understand them and their needs, and why they feel our advice is invaluable."
Jen Pomfrey the web designer said, "The new fully responsive site allows for Homes One Clients to be able to access the site where ever they are. It is easy to navigate whilst having a bold visual impact, which helps to show off the quality of Homes One. The site is a great collaborative effort and working with the Homes One team is an absolute delight."
Homes One is an independent and boutique property consultancy in South Kensington, set up in 2005. They exclusively find and purchase property on behalf of investors, private individuals and corporate clients.