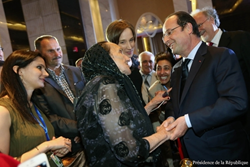 I would like to thank Mrs Botto for showing confidence in the French Republic and for showing this mark of friendship between our two countries.
Baku, Azerbaijan (PRWEB UK) 12 May 2014
During his Caucasian tour from 11–13 May, French President François Hollande met 86-year-old Yvonne Botto during his official visit to the country. A French emigrant who came to live in Azerbaijan after the Second World War, Yvonne's romantic story entranced the French media in 2011.
The story began in summer 2011, when The European Azerbaijan Society (TEAS) noticed an article on Yvonne Botto by journalist Sabuhi Mammadli in the Azerbaijani media. Sabuhi had traveled to the Imishli region in Southern Azerbaijan, near the Iranian border, to report on those people who had lost their homes during the great floods that ravaged the region, including that of Yvonne. He discovered that Yvonne, originally from Haute-Savoie, left France in 1947 to follow her husband, a former Soviet soldier of Azerbaijani origin, and settled with him in the small village of Murguzalli in the Imishli region. He died soon after their marriage, and she decided to remain for the sake of her son.
Yvonne eventually returned to her homeland after 64 years, thanks to TEAS who rallied forces to find members of her family in France and helped with her visa and travel to the country. In October 2011, at the age of 83 years, Yvonne was finally able to return to Le Fayet, her childhood village, and visit the graves of her parents and brother who passed away without being able to see her again.
The emotion was strong on 11 May, when President François Hollande met Yvonne, the eldest member of the French community in Azerbaijan. This was also a privilege for Yvonne Botto, who never stopped thinking of her home country. Through Marcelle, her cousin, she had maintained contact with her remaining family in France across the decades.
During his speech, President Hollande honoured Yvonne Botto, referring to "the great story of Yvonne Botto", particularly regarding a letter she wrote in 1991 to former French President François Mitterrand. He said: "I heard a lot about you. François Mitterrand personally read this letter, and assured that you would be able to travel. Much later, in 2011, you were able to reunite with parts of your family in the Haute- Savoie region of France."
He continued: "You are the example of what should France do for its citizens, particularly those who for personal or professional reasons, may at some point become abandoned, or have a feeling of abandonment and require assistance. I would like to thank Mrs Botto for showing confidence in the French Republic and for showing this mark of friendship between our two countries."
Following his speech and singing of 'La Marseillaise', the President breached protocol to greet Yvonne Botto, who clung to the President's hands, exclaiming in her almost-forgotten native tongue: "Very much thank you, Very much thank you (sic). I will come to see you in France, Mr President. Vive la France! Vive l'Azerbaijan!" She proudly presented her French passport to show the President, having regained French nationality due to the joint efforts of TEAS and the French embassy in Baku.
Eliza Pieter, Head, TEAS France, commented: "Yvonne has had a lifetime of hope and determination and, as pointed out by her cousin Marcelle, the meeting with the President of her 'dear and sweet France' is a just reward. For over 60 years, she wanted to see her home country and family. Yvonne has led an extraordinary life."
TEAS is currently preparing a film documentary and a biography on Yvonne's life that will be released at the end of 2014.