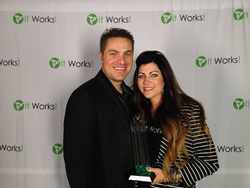 Helping others help themselves is the best way to advance financially.
Lubbock, Texas (PRWEB) May 14, 2014
Who wants to be a Millionaire?
The biggest TV show in America at the turn of the Century was famous for "tempting" people to become new millionaires by testing their knowledge under pressure.
Hardly anyone ever won the million-dollar prize, but viewers by the millions were glued to their television sets because they were captivated by the excitement of a relatively normal person being able to change their financial futures in one night.
While that show has now become a syndicated shadow of itself, the desire and excitement that comes with the idea of a regular person becoming a millionaire has not waned. And with the explosion of online work-from-home companies offering to make millions of dollars for its workers, neither has the temptation to go for it dissipated. Unfortunately, many of the companies who make those million dollar promises cannot deliver and most of the participants are left with financial futures very similar to their financial present.
That's what makes ITWorks Global (and other elite "beauty companies") such a phenomenon for so many of its participants. They provide excellent support and useful direct sell products for beauty and wellness, while asking mostly female entrepreneurs for their hard work, dogged perseverance, and a healthy ambition. And then, without promising to make their female workforce into millionaires, their system seems to be actually churning out yearly millionaires who have been able to retire their spouses from work and to become wealthy over the long term.
Recently, ITworks Global welcomed fourteen new individuals into their Official Millionaire's Club, celebrating them with a big party and open arms from the past entrants.
Ashley Sinclair, along with her husband Daniel, have worked as a team to earn this honor in record time by using their friendly West Texas charms within their combined spheres of influence. By mainly focusing their efforts on skinny wraps (AKA those "crazy wrap things") and recruiting others to embrace the ITWorks model of direct sells and distribution, Ashley and Daniel not only achieved the million dollar yearly "prize" for themselves, but they have helped many others alter their finances in significant ways.
They make it their goal to train more "regular people like them" so that more people can join them in the Millionaires Club very soon.
So, let's all move from the fantasy of Who wants to be a Millionaire and move to the reality: Who wanted to be millionaires?
The Sinclairs did.
And they won the ITWorks game, by working hard at building relationships that benefitted them and especially benefitted others.
Their story underscores the bigger story of a growing trend: Thousands of other female entrepreneurs are finding out that there is a way to change their own lives by helping others to help themselves. And just as with Mary Kay representatives (et al) who make money by "selling beauty" and also teaching other women how to be more confident in their abilities to grow a personal wealth base, females in all sorts of direct sell groups are not worrying about glass ceilings and tiny raises.
Why?
Because they have become their own bosses and they reward themselves beyond every ceiling ever created.
Women making pennies? Maybe before, but not any more.
Women making millions? You bet.
And unlike many beauty reveals, this is a "Before and After" tale that anyone can believe in.