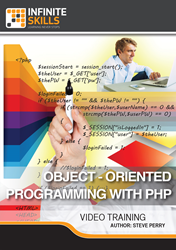 Learn Object-Oriented Programming with PHP at your own speed.
(PRWEB) May 12, 2014
Software training firm Infinite Skills this week introduced its "Object-Oriented Programming with PHP Tutorial," a brief course designed for proficient PHP programmers, explaining the constructs in the language that allow it to work with objects.
PHP was not originally created to be an object-oriented language like Java. It is more accurately described as an object-capable language.
Infinite Skills' "Object-Oriented Programming with PHP" is designed to equip PHP programmers with the competence to use this capability after only a few short lessons and practical examples.
Object-Oriented Programming with PHP Tutorial - Streaming Video
Course author Steve Perry started full-time in IT in 1977 as a mainframe COBOL programmer. He moved into Windows programming and database technologies in 1994, and began in web development in 1997. Perry became a full-time instructor in 2001, and taught at the university level as well as in corporate training. He is an expert in both PHP and Java.
Perry begins by explaining what object-oriented programming is, the basic constructs within PHP for working with objects, and how to install and setup a computer for PHP and MySQL.
The course then covers the tools for defining classes, properties, and methods, leading into how to create and use objects. The chapter closes with a project where Perry guides users through a real-world application of these lessons.
Next, Perry moves into more advanced features on the way to designing and implementing an interface. He covers issues like inheritance and interfaces, demonstrating how to extend a class, control access to properties, override methods, and more.
"This class will introduce you to nearly all of the PHP object-oriented constructs," Perry says.
"Even with objects, you must use procedural code to get things to run, so in this course I'll run the code, and you'll see it working in some detail."
Free demo videos and a full list of course contents can be found on the Object-Oriented Programming with PHP training page of the Infinite Skills website:
http://www.infiniteskills.com/training/object-oriented-programming-with-php.html
Infinite Skills offers its Object-Oriented Training Video either as a direct download from the company website at a retail price of $24.95. Though the compatibility of programs varies, all Infinite Skills titles and formats are compatible with both Mac and Windows operating systems, and shipping is available around the globe. Additionally, Infinite Skills tutorials are supported by project files which correspond to examples in the videos.
About Infinite Skills Inc.
A leader in the field of software training, Infinite Skills designs its courses on a task-oriented model, teaching complex skills by providing hands-on examples and guiding users as they carry out essential functions. Infinite Skills offers a wide range of software titles available as DVDs, digital downloads, and in iPad editions. Infinite Skills now offers a subscription service, providing access to all its training content for a monthly fee, keeping with company's aim of delivering professional training to customers anywhere they want to learn.