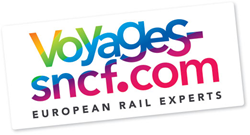 (PRWEB UK) 14 May 2014
The ease with which it is now possible to book rail travel throughout Europe, is highlighted today with the launch of Voyages-sncf.com's brand new digital campaign aimed at the British consumer market.
Featuring a tongue-in-cheek video, the general public can compare #TheHardWay to book versus #TheEasyWay this summer, showcased by the simplicity of booking via Voyages-sncf.com's newly streamlined website.
Keen to debunk the myth that booking European train tickets is a difficult process, Voyages-sncf.com gently pokes fun at people attempting to overcome a wide range of obstacles preventing them from booking. The video, shot at a number of locations around the London, shows potential travellers opting to acquire tickets by either #TheEasyWay (via Voyages-sncf.com) or #TheHardWay, which involves a number of antics including scrambling up lampposts, manoeuvring on moving buses and dodging tigers!
Purchasing tickets with Voyages-sncf.com, the UK's leading European rail ticket agency, is now as easy as ABC:

Easy Way to book – as well as a comprehensive, easy to navigate website, customers requiring additional support, or with specific questions may book via a dedicated UK call centre or in person at the Voyages-sncf Travel Centre on London's Piccadilly.
Easy Way to obtain tickets – choose how to receive your tickets – by printing at home, by post direct to your door, or collect at the station, whichever is easiest.
Easy Way to find information –the comprehensive Voyages-sncf.com website has information on numerous European destinations, how to get there and what to see and do once there. There's also information on the trains that travel there. For more specific questions, ask the team at Voyages-sncf via Facebook or Twitter or by using the online chat facility on the website.
Easy Way to travel – with high-speed modern rail services whisking travellers from city centre to city centre at speeds of up to 320km per hour, it's no surprise that increasing numbers of travellers are choosing to take the train.
Easy Way to protect the environment – anyone with a carbon conscience can travel by train safe in the knowledge that carbon emissions are around 10 times lower than when travelling by plane.
Easy Way to relax – sit back and make the journey part of the holiday. Simply step on board in the city centre, and comfortable surroundings and beautiful views of the passing countryside are sure to put travellers into the holiday mood, before they arrive in the heart of their destination.
As part of the campaign, Voyages-sncf is also offering readers the chance to win one of 12 pairs of train tickets to Avignon, Barcelona, Geneva or Milan.
Additionally, Voyages-sncf.com will be holding an 'other way' challenge day at their central London Travel Centre in Piccadilly on Monday 19th May 2014. Passers-by are invited to solve a giant sliding puzzle to be entered into a prize draw to win a pair of rail tickets to a variety of European destinations.
To find out how easy #TheEasyWay can be, go to Voyages-sncf.com, call 0844 848 5848 or visit the Voyages-sncf Travel Centre at 193 Piccadilly, London W1J 9EU. Connect with Voyages-sncf.com on Facebook, Twitter or YouTube and follow the buzz via the hashtag #TheEasyWay.