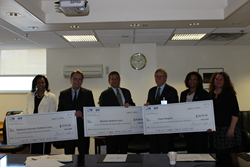 Hudson County, NJ (PRWEB) May 12, 2014
CarePoint Health announced today that its achievements in patient safety and care quality have resulted in a financial reward as part of the 2013 Horizon Blue Cross Blue Shield of New Jersey's Hospital Recognition Program.
Under a program initiated by Horizon BCBSNJ in 2006, and one which distinguishes hospital excellence based on quality scores earned from the nationally-renown Leapfrog Hospital Recognition Program, CarePoint Health today received the following awards: Bayonne Medical Center $97,387, Christ Hospital $49,737 and Hoboken University Medical Center $31,511. The financial recognition acknowledges Horizon BCBSNJ network hospitals that perform well against key national measures for care quality, patient outcomes, safety, and transparency in reporting.
"As members of an integrated healthcare delivery system, the hospitals of CarePoint Health are able to draw upon each other's expertise and resources to insure the highest degree of patient safety and quality care for the residents of Hudson County," said Peter Kelly, CEO, CarePoint Health - Christ Hospital.
"We appreciate the recognition of Horizon Blue Cross/Blue Shield for the high marks received by our three CarePoint Hospitals in their quality and safety rankings from among the 80+ hospitals in their insurance network," said Paul Walker, CEO, CarePoint Health - Hoboken University Medical Center. "These awards are yet another confirmation of the focus from our clinicians on excellence in patient care."
"The award underlines CarePoint Health's commitment to high quality of care and patient safety. CarePoint Health will continue to invest in and focus on these vital aspects of healthcare delivery," said Mark Spektor, CEO, CarePoint Health - Bayonne Medical Center.
"We commend CarePoint Health for participating in the Horizon Hospital Recognition Program," said Kevin Conlin Executive Vice President, Healthcare Management, Horizon BCBSNJ. "By volunteering to be measured against rigorous national criteria and scored on performance by the Leapfrog Group, participating hospitals demonstrate their commitment to the highest standards of safety and quality for their patients."
The annual Leapfrog Hospital Survey assesses hospital performance based on national performance measures and practices that cover a broad spectrum of hospital services, processes, and structures. For example, the scoring assesses facilities efforts to combat hospital-acquired infections and apply clinically-sound, evidence-based practices to improve care delivery, efficiency and patient outcomes.
For more information on this achievement, contact:
Allyson Miller
CarePoint Health
Vice President of Marketing and Public Relations
Phone: 201-858-5297
Fax: 973-646-5563
Email: AMiller(at)bayonnemedicalcenter(dot)org
About CarePoint Health:
CarePoint Health brings quality, patient-focused health care to Hudson County. Combining the resources of three area hospitals - Bayonne Medical Center, Christ Hospital in Jersey City, and Hoboken University Medical Center - CarePoint Health provides a new approach to deliver health care that puts the patient front and center. We leverage a network of top doctors, nurses and other medical professionals whose expertise and attentiveness work together to provide complete coordination of care, from the doctor's office to the hospital to the home. Patients benefit from the expertise and capabilities of a broad network of leading specialists and specialized technology. And at CarePoint Health, all of our medical professionals emphasize preventive medicine and focus on educating patients to make healthy life choices. For more information on our facilities, partners and services, visit our website, http://www.carepointhealth.org.