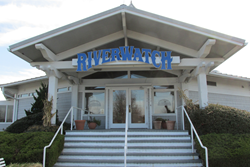 Brick, NJ (PRWEB) May 19, 2014
Boat owners may just have the best seat in the house at this Jersey Shore restaurant. The River Watch Restaurant located in Brick, New Jersey invites customers for casual dining inside or or outside via service right to their boat.
Dreaming of one day having their own restaurant overlooking the water, owners Matt Pellicano and Robb "The Captain" Councilor fell in love with the waterfront location formerly known as the Pilot House. "We searched for at least a year to find the perfect location," said Pellicano. "We went on a trip to Florida and got inspired and wanted to be on a marina." Pellicano has been in the restaurant business for years as the original owner of several well-known restaurants such as Arthur's Steakhouse in Westwood, New Jersey, Coco Pozzo in Saddle Brook, New Jersey and Sherries in Freehold, New Jersey.
The River Watch Restaurant has become a prime spot for many local residents serving the freshest food on the market. "We don't own a microwave because none of our food is frozen," said Pellicano. "Our customers have to have patience when they come here because everything is made to order." Specializing in steak and seafood, The River Watch also serves a variety of pasta, sandwiches and burgers. "We wanted to be an original restaurant that has nothing to do with what chain restaurants do," said Pellicano. "We are reasonably priced and we do not want to be known as a place people only go to for special occasions."
One of the big perks of being so close to the Forge Landing Marina is boaters can get service right from their boats. "We help customers dock their boats and we can serve them right on their boat," said Pellicano. "We are not a seasonal place but in the summertime we have a lot of dock and diners." Restaurant-goers can enjoy specials every day, live entertainment on the weekends and holiday events. "We wanted a casual, happy atmosphere," said Pellicano. "We didn't want a stuffed-shirt place."
Specials that are offered include Lobster Night, Ladies Night, Prime Rib Night, and Sunday Brunch excluding holidays. "We are really open to families and want everyone to come," continues Pellicano. "There's always something going on." Coming soon will be a Trivia Night and a Disco Night on Thursdays where guests can dance and enjoy themselves. "I would love to open another restaurant in Florida within the next couple of years," states Pellicano.
The River Watch Restaurant & Lounge is open seven days a week beginning June 1, 2014 from 11:30 am to 12:00 am on weekdays, closing at 2:00 am on weekends. On Sundays their hours are from 10:30 am to 12:00 am. They are closed on Mondays during the winter months. Visit their website to view their entertainment schedule and to download their full menu at http://www.riverwatchbricknj.com/#!home/mainPage or call (732) 920-8900 to book a reservation today!
About Bielat Santore & Company
Bielat Santore & Company is an established commercial real estate firm. The company's expertise lies chiefly within the restaurant and hospitality industry, specializing in the sale of restaurants and other food and beverage real estate businesses. Since 1978, the principals of Bielat Santore & Company, Barry Bielat and Richard Santore, have sold more restaurants and similar type properties in New Jersey than any other real estate company. Furthermore, the firm has secured in excess of $500,000,000 in financing to facilitate these transactions. Visit the company's website, http://www.123bsc.com for the latest in new listings, property searches, available land, market data, financing trends, RSS feeds, press releases and more.