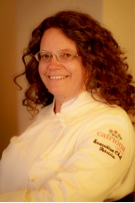 "Wine is meant to be paired with fresh, delicious and seasonal foods," noted McClelland. "My goal is to offer a balance of salty, savory, spicy and sweet flavors that will surprise and delight your palate."
Monument, Colorado (PRWEB) May 13, 2014
Catriona Cellars, Colorado's newest winery, featuring a tasting room, café and gift shop, will officially open its doors on May 24th at 11 a.m. at 243 Washington Street in Monument, Colorado.
The winery, which has been under construction for the past nine months, will offer seven inaugural red and white wine blends at its tasting bar, crafted by master winemaker Woody Woodworth, including Red Diva, Catriona's flagship blend of Cabernet, Syrah and Zinfandel.
Catriona Cellars has been designed to provide a sensory experience of wine tasting, dining and shopping in a natural, casually elegant environment dedicated to food and wine lovers alike. Toward that end, the winery has also recently appointed Patricia McClelland as Executive Chef. Chef McClelland comes to Catriona Cellars with more than 30 years of experience in the food science and fine dining industries, and will be overseeing The Café at Catriona, a 'small plates' eatery located on the grounds of the new winery.
"We're thrilled to have Chef McClelland as our new Executive Chef at Catriona Cellars," states co-owner Catherine Woodworth. "We are tremendously excited to invite our patrons and guests to enjoy her inventive, seasonal dishes and sample the small plates menu she has created to pair with our wines."
Chef McClelland was co-owner of The Bella Panini in Palmer Lake, Colorado and has also contributed her culinary gifts to southern Colorado dining establishments including The Cheyenne Mountain Conference Resort and to Charo's Restaurant in Kauai, Hawaii. She is excited by the local, seasonal ethos that is part of the spirit of the Catriona Cellars' commitment to excellence. A creative chef with a passion for locally sourced food, McClelland enjoys the opportunity to include produce, meats and cheeses from the immediate region and often maintains a kitchen garden to provide fresh vegetables and herbs for the cuisine she designs for the dining establishments of which she has been a strong contributor.
"Wine is meant to be paired with fresh, delicious and seasonal foods," noted McClelland. "And if I can bring them from local sources, all the better. My goal is to offer a balance of salty, savory, spicy and sweet flavors that will surprise and delight your palate. I can't wait for our doors to open!"
Catriona's owner-operators, Woody and Catherine Woodworth, look forward as well to greeting their guests and patrons on May 24th at the winery that is the culmination of a lifelong dream to encompass their love of and experience with wine. "Catherine and I are seeing our dream realized here, and the best part is that it's a dream meant to be shared with others!" observed Woody Woodworth.
For more information, visit http://www.catrionacellars.com or call 719-481-3477. For a digital copy of this press release or our media images, please visit http://www.catrionacellars.com/media/.