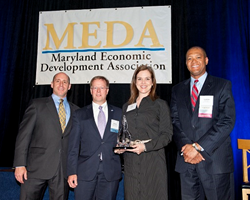 Frederick, Maryland (PRWEB) May 13, 2014
Richard Griffin, Director of Economic Development for the City of Frederick, and Julie Garner, Director of External Affairs, Maryland for AstraZeneca, accepted the award at the 2014 MEDA Awards Ceremony. The ceremony annually honors "standouts" in the field of economic development and the professionals who foster MEDA's success today.
The award-winning plant, located next to the original 163,802 square foot biomanufacturing facility, provides increased capacity and has enabled AstraZeneca and MedImmune to meet the demand for new products. The company boasts world-class protein engineering and process development capabilities.
"The new facility serves as an exceptional example of the biotechnology growth in the Frederick area and successful collaborations," said Griffin.
"Our Frederick manufacturing facility is an integral component to AstraZeneca's business operations," said Garner. "We're pleased to have received this prestigious recognition from the City."
"We're extremely proud of the project and the team of City, County, and State partners who worked proactively with AstraZeneca and MedImmune during the expansion process," said Frederick Mayor Randy McClement.
The AstraZeneca facility also assists in the diversification of the area's economy. By blending a growing sector such as biotechnology with an industry such as manufacturing, this sector of Frederick's economy is strengthened and stabilized.
Biotechnology is one of five major industries in Frederick, along with advanced technology, manufacturing, services, and tourism.
The City of Frederick Department of Economic Development strives to increase economic opportunity for Frederick residents through job creation, revitalization and reinvestment. Visit businessinfrederick.com for more information.