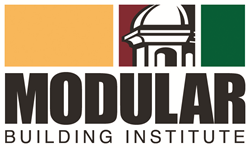 "MBI is the industry's trade association and has been around for over thirty years. We are not in this for a quick profit, but to help change the way the world builds."
Charlottesville, Virginia (PRWEB) May 14, 2014
In addition to a few very high profile projects utilizing modular construction, the Modular Building Institute (MBI: http://www.modular.org) announced today that the industry is experiencing an unprecedented level of interest and enthusiasm from the architect, engineer, contractor and owner/developer community.
MBI recently helped launch the creation of a new Off Site Construction Council within the National Institute of Building Sciences - https://www.nibs.org/?page=oscc. In late 2013, the National Institute of Building Sciences formally established the Off-Site Construction Council (OSCC) to serve as a research, education and outreach center for relevant and current information on off-site design and construction for commercial, institutional and multifamily facilities. According to the council, "Off-site construction" is the planning, design, fabrication and assembly of building elements at a location other than their final installed location to support the rapid and efficient construction of a permanent structure." MBI Executive Director Tom Hardiman, currently serves on the Executive Committee of the Council while five other MBI members serve on the board of direction.
"We are seeing an increase in the number of conferences, summits, and shows with a modular construction theme," said Hardiman. "From for profit conference planners to universities and other trade groups, modular construction is a red hot topic for conferences." In addition to MBI's annual "World of Modular' Conference, Oregon Best, Associated General Contractors, and the University of Alberta School of Engineering are the most recent groups to cover the topic.
"We are obviously excited about the enthusiasm, but I would caution people to consider carefully where they obtain information about this process", said Hardiman. "While established trade associations, government agencies, and universities and generally solid sources of information, some for-profit conference planners are notorious for throwing together meetings on current topics in order to turn a quick profit, with less regard towards the quality and relevance of the content. MBI is the industry's trade association and has been around for over thirty years. We are not in this for a quick profit, but to help change the way the world builds."
Equally as exciting is the number of universities across North America now teaching modular construction processes to their architect, engineering, and construction management students. Through MBI's U.S. and Canadian Educational Foundations, the industry is working with schools on a program called "Partners in Education" to help facilitate and foster better industry and academic relationships.
The association recommends that owners and contractors considering the modular construction process engage in discussions with modular consultants and manufacturers early in the project development and work with experienced companies. Early engagement and involvement of all the key players are key factors to the project's overall success.
For more information about the Modular Building Institute, upcoming conferences or the Partners in Education program, visit http://www.modular.org.
About MBI: Founded in 1983, the Modular Building Institute (MBI) is the only international non-profit trade association serving modular construction. Members are manufacturers, contractors, and fleet owners in two distinct segments of the industry - permanent modular construction (PMC) and relocatable buildings (RB). Our Mission: As the Voice of Commercial Modular Construction (TM), it is MBI's mission to expand the use of offsite construction through innovative construction practices, outreach and education to the construction community and customers, and recognition of high quality modular designs and facilities.