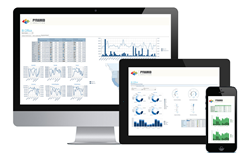 'Core to our internal reporting, Pyramid's BI Office provides our decision-makers with increased flexibility, autonomy and responsiveness to rapidly changing business and market conditions.' – Steve Waters, Siemens Motion Control
Seattle, WA (PRWEB) May 13, 2014
Pyramid Analytics announces BI Office v5.2 - providing IT governance without constraining the self-service data discovery that business users have come to expect in today's fast changing business world.
Building on its reputation of simultaneously catering to business users' increasing need for agile data discovery tools and the growing demand for better data governance, BI Office v5.2 from Pyramid Analytics adds the ability for business users to integrate common big data sources such as Hadoop Hive, Windows Azure Hive, IBM DB2 and PostgreSQL, while maintaining the governance capabilities needed for enterprise data security and scalability.
BI Office 5 places the right information in the hands of business users anytime, anywhere. BI Office v5.2 extends data management capability and places self-service data analytics in the hands of the business user alongside enterprise deployment and governance.

Mash-Pit, a wizard that enables enterprise data mash-ups in the cloud (Private or Public), provides business users the tools to create reports and analysis from multiple data sources, internal, external and personal. By adding external data sources, users can blend their own data with existing information, all within an enterprise framework, effectively bridging the gap between self-service and corporate Business Analytics.
Mobile experience, giving users interactive access to their analytics and dashboards on-the-go from any connected device (iOS, Android, Windows).
Big Data hubs, giving managers access whether on site or in the cloud. Big Data analytics can now be integrated into the enterprise analytics framework with Pyramid Analytics web-based user driven, cloud based analytics platform.
"Pyramid Analytics' BI Office 5.2 adds a whole host of new features that enable IT Professionals, Analysts, and Decision Makers to understand their data and share information," said Avi Perez, Chief Development Officer of Pyramid Analytics. "Enterprise Reporting, user driven data mash-ups and mobile support are now part of BI Office 5. Access to the Pyramid Analytics' experience is now anywhere, anytime, any data."
Customers have been unanimous in their praise of Pyramid Analytics' BI Office 5.0.
"Core to our internal reporting, Pyramid's BI Office provides our decision-makers with increased flexibility, autonomy and responsiveness to rapidly changing business and market conditions." – Steve Waters, Siemens Motion Control
About Pyramid Analytics
Pyramid Analytic' Enterprise Analytics Platform combines the agility, ease of use and fast implementation cycles that users have come to expect from the best of the new generation data exploration tools and delivers it within an enterprise class data governance framework. The platform allows rapid integration of new data sources, sharing of business logic across the enterprise, and allows users of all levels, from analysts to front line managers to interact through a simple, intuitive and familiar interface to make better, smarter decisions.