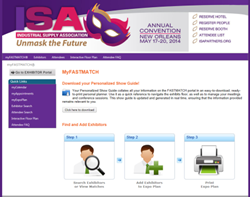 Attendees are able to search for exhibitors by keywords and products, create a list of their favorite exhibitors, and directly contact these exhibitors to schedule onsite meetings.
Columbia, MD (PRWEB) May 13, 2014
a2z, Inc., the Maryland based event management software company, is excited to announce that, for the third year in a row, the Industrial Supply Association (ISA) is experiencing great success with the online networking solution FASTMATCH® that is powered by a2z. FASTMATCH® is an integral part of ISA's upcoming Annual Convention allowing attendees to book appointments with exhibitors and other attendees via the online matching and networking solution. The 2014 ISA Convention is the must-attend event of the year for distributors, manufacturers/suppliers, industrial manufacturer representatives and service providers in the Maintenance, Repair, Operations and Production (MROP) Industry. The Annual Convention will be held May 17-20, 2014 in New Orleans, LA.
FASTMATCH® provides exhibitors the opportunity to create an online eBooth to showcase their latest products and services to buyers before they travel to the event. In addition, exhibitors are matched with registered attendees who indicate interest in the exhibitor's product categories. Exhibitors can directly connect with attendees who the system matches them with or that the exhibitor desires to reach via direct emails as well as appointment scheduling tools.
When attendees log in to FASTMATCH®, they are greeted with various planning tools designed to help attendees be more productive when onsite. Attendees are able to search for exhibitors by keywords and products, create a list of their favorite exhibitors, and directly contact these exhibitors to schedule onsite meetings. In addition, attendees can connect with other matched or favorite attendees via email and use the appointment feature to schedule onsite meetings with fellow attendees. Attendees can then build a personalized itinerary consisting of their favorite exhibitors, exhibitor and attendee meetings, and personal meetings.
To learn more about the ISA Annual Convention, please visit http://www.isapartners.org/events/2014-annual-convention. To build your own personal show itinerary, please visit FASTMATCH®.
About a2z Inc.
a2z, Inc. provides powerful web-based event management tools that grow your show by increasing and accelerating booth sales, helping boost revenue, and enhancing engagement and value for everyone. a2z, Inc. powers more than 850 leading events every year. Our clients benefit from increased connectivity with their audience via an improved website for their attendees and exhibitors and both web-based and native mobile app solutions. To fulfill our goal of developing quality solutions that help save money and meet your needs, a2z offers three platforms as one integrated solution: Expo & Conference Management, Networking & Lead Management, and ChirpE Mobile- which includes our web-based and native mobile apps for smart phone and tablet devices.
About ISA
The primary focus of the Industrial Supply Association is to improve the industrial supply channel through its mission-critical activities, including: conventions and forums for member interaction and education; gathering and dissemination of critical information, including industry data, research, trend analysis and operating metrics; and development and implementation of channel performance initiatives, including e-commerce, standards, industry advocacy and education. ISA is committed to bringing channel partners together and fostering an environment that allows for a free flow of communication to better understand the needs of the manufacturer, distributor, industrial manufacturers representative and service provider.