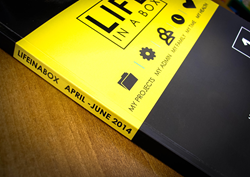 "Lifeinabox allows you to plan your daily life by taking control of your negatives and turn them into positives which in turn leads to peace with yourself and all around you and by achieving this automatically leads to increased productivity and success
Stockton on Tees, Cleveland (PRWEB UK) 15 May 2014
Daud Hafiz, a designer and pharmacist's unique creation Lifeinabox Planner is now available via Kickstarter. This exceptionally useful organiser has been created to help individuals bring out their best through developing a healthy mind.
Daud's Lifeinabox daily productivity planner is the first of its kind because it combines all key elements of human life that matter to people. With the intention of reaching out to a larger audience, Daud has just launched his organiser 'Life in a Box Planner' via Kickstarter.
In today's busy lifestyle, an efficient planner can be of great help. However, most of the so called productive planners and tools do not take one important aspect into consideration. None of these organisers provide a support network that helps users stay focused and remain unperturbed from negative information and action. Lifeinabox Planner is the world's first planner that combines deep breathing and visualisation exercises into the day and has a unique compartmentalising system.
"The 5 minute blockout is a unique feature of the planner which comes with earplugs to allow you to take 5 minutes out of your day to blockout the world around you and to focus on your deep breathing. This small exercise gives your mind a break from the constant thoughts which can reduce your overall productivity" says Daud Hafiz
It combines all the key elements of life with a 2 page spread system. Being much more than just an organiser, Lifeinabox Planner helps users train their mind to positively manage stress that often drags them back during productive phases. It allows you to breathe, believe and become who you want to be.
Lifeinabox Planner will be available in book form with a 2 pages per day system. The system provides one book per quarter and allows users to set targets in terms of what has been achieved and what still needs to be done. Daud Hafiz has spent the last nine months of his life completing all critical aspects of this project including designing, video creation, and printing of the prototype. Proceeds from the Kickstarter campaign will be used to print 'LifeinaBox' and get it to its potential users.
Highlighting the benefits of Lifeinabox, its proud creator Daud Hafiz says, "Life in a Box allows you to plan your daily life by taking control of your negatives and turn them into positives which in turn leads to peace with yourself and all around you and by achieving this automatically leads to success, productivity and healthy living. We all have ups and downs in our lives and i have had my fair share but how we react is crucial to the end result. Getting the project this far has been an amazing journey for myself and I hope I can share this with those that need it the most."
About Lifeinabox: Life in a Box is a uniquely designed personal planner created by Daud Hafiz. Unlike most other planners people use, Life in a Box is capable of combining all key elements of human life with a unique 2 page spread system. This highly efficient planner is now available for pre-order in Kickstarter.