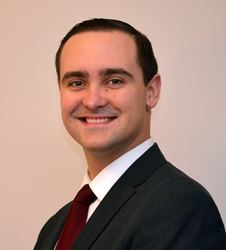 SCRANTON, Pa. (PRWEB) May 12, 2014
Partners Melissa A. Scartelli and Peter Paul Olszewski, Jr. of Scranton and Wilkes-Barre personal injury law firm Scartelli Olszewski, P.C., are pleased to announce that attorney Christian W. Francis has joined the firm as an associate.
Francis is a trial lawyer serving Northeast Pennsylvania and the surrounding region who focuses his practice on civil and criminal litigation. In civil practice, he concentrates on car and tractor trailer accidents, medical malpractice lawsuits, slip and fall accidents, and product liability lawsuits. Francis also defends individuals facing all types of misdemeanor and felony criminal charges, from driving under the influence / DUI to major crimes, in both state and federal courts.
"Scartelli Olszewski is fortunate to have Christian Francis join our team," said firm Founder and President Melissa Scartelli, Esq. "His civil litigation experience will enable our firm to expand and represent more injured victims."
Prior to joining Scartelli Olszewski, Francis was an associate at Minora, Minora, Colbassani, Krowiak, Mattioli, and Munley where he also concentrated on civil and criminal litigation. Francis completed his undergraduate studies at The Pennsylvania State University and received his law degree from the University Of Pittsburgh School Of Law. During law school, he clerked for a District Judge in the U.S. District Court for the Western District of Pennsylvania and worked for several prominent civil litigation firms in Pittsburgh.
Francis is admitted to practice in all of Pennsylvania's state courts. He lives in Peckville, Pa., with his wife and daughter and is an outdoor enthusiast who enjoys camping, skiing, golfing and mountain biking.
About Scartelli Olszewski, P.C.: Founded in 2001, Scartelli Olszewski, P.C. handles personal injury and wrongful death cases on behalf of auto and truck accident victims, malpractice victims and other injured individuals and their families, as well as criminal defense. Practice areas include medical malpractice, automobile accidents, tractor trailer accidents, auto defects, criminal defense, defective drugs and medical devices, insurance bad faith, liquor liability, nursing home negligence, premises liability, and product liability. Scartelli Olszewski is small enough to care, yet large enough to win for their clients in the Scranton and Wilkes-Barre, Pa., region. To learn more about the firm, visit http://www.scartelli.com.