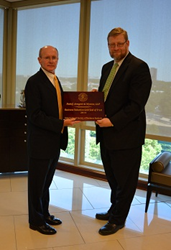 (PRWEB) May 13, 2014
The partners at Habif, Arogeti & Wynne, LLP (HA&W) announced today that HA&W Business Valuation Services is the first to be awarded the Gold Seal of Trust ("Gold Seal") by the International Society of Business Analysts (ISBA). The ISBA established the Gold Seal Program to provide companies that hire business valuation experts with the assurance that business valuation firms are observing best practices. HA&W agreed to be the subject of an exhaustive peer review of its people, processes, and work product, as part of the rigorous ISBA program. This designation gives our clients the assurance that they are getting the best guidance and advice available.
The ISBA Gold Seal Program was architected by Howard Lewis, who designed the Internal Revenue Service's business valuation training program as well as the Accredited in Business Appraisal Review credential issued by the National Association of Certified Valuation Analysts. ISBA is committed to best practices, ethics and knowledge sharing among professional business advisors. More information on ISBA is available at http://www.societyofbusinessanalysts.com.
"HA&W recognizes the importance of peer review at the operations level of their business valuation group and sets the gold standard for quality of their professional services," explained Lewis.
Michael Blake, director of HA&W Business Valuation Services, said upon announcement of the honor, "This is an important accomplishment, for our group, for the business valuation profession, and, especially, for our clients. This recognition demonstrates that the practices and procedures we've developed have been peer reviewed and found to be leading best practices for the industry."
Richard Kopelman, HA&W CEO & Managing Partner added: "To enable the success of our clients means that we have to excel and be distinguished in all of our industry niches, service lines and practice areas. Receiving the first Gold Seal issued by ISBA demonstrates that we are leading through quality and thought leadership in business valuation."
"HA&W Business Valuation Services exemplifies the commitment to quality services our profession requires," concluded Lewis.
Gain more information about the components of the Gold Seal Program by contacting Michael Blake at michael.blake(at)hawcpa(dot)com.
About Habif, Arogeti & Wynne, LLP:
Today, the pace at which work gets done is faster than ever before, and when companies manage that pace by surrounding themselves with the right people, sustainable success happens. That's why recognizable industry leading companies continue to select Habif, Arogeti &Wynne, LLP as their accounting, audit, tax and consulting firm of choice. Companies looking to increase profitability, streamline processes that improve financial reporting and reduce the time associated with audits, tax planning and compliance choose HA&W. Quicker answers, avoiding unforeseen pitfalls, becoming a better business for the long-run; these are just a few of the benefits clients routinely experience when working with HA&W. Starting up, growing or getting ready to transition? Operating locally, nationally or globally? HA&W gets you where you want to be. Be Successful.
Reach out to HA&W at http://www.hawcpa.com.