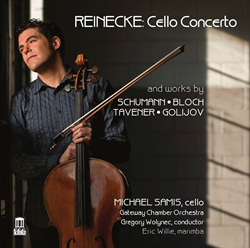 The music is compelling and full of emotion!
Nashville, TN (PRWEB) May 14, 2014
Sometimes, great music is forgotten and overlooked. Like a precious gem or piece of gold buried in the dirt – with the passage of time people fail to remember. The forgotten Cello Concerto, composed by the gifted and prolific Carl Reinecke is one of those lost gems that deserve a dusting off and a return into the repertoire.
Samis, a Nashville-based cellist, used today's crowd-sourcing technology to launch a successful KickStarter campaign and bring this historic piece of music to life. With no recording currently available, few people have ever heard the music and the public response around the world to fund this CD release project was tremendous.
The recording will be released June 10, on the Delos label with the Cello Concerto as the centerpiece of this debut solo album. The CD may be pre-ordered via these two outlets:
ArkivMusic: http://bit.ly/ReineckeArkiv and AmazonMP3: http:// http://amzn.to/1ngQAO1.
A performance on February 11, 2013, was likely the first time the piece has been heard on U.S. soil since the 1890's. The Cello Concerto was recorded a few months later with the Gateway Chamber Orchestra, under the direction of conductor Gregory Wolynec at Austin Peay University's George and Sharon Mabry Concert Hall, in Clarksville, TN.
Samis was so drawn to this music when he found this lost romantic concerto; there was no doubt, he had to share it, "I discovered Reinecke's Cello Concerto, which was written in 1864. After playing the opening theme, I decided that I had to learn this piece. Its soaring melodies and brilliant virtuosity remind me of Mendelssohn's violin concerto."
He adds, "Reinecke's music was overlooked because it was considered "out of fashion" at the time. The music is compelling and full of emotion, as it looks back to the work of composers like Schumann and Mendelssohn. This debut album is built around connections to the past, looking back to music and people for their inspiration."
Hear a preview of this recording.
This disc will include:

A first recording of the great conductor Ernest Ansermet's cello and orchestra setting of Schumann's charming Adagio and Allegro.
Ernest Bloch's Suite No. 1 for cello solo (Bloch patterned three suites after the unaccompanied cello suites of J.S. Bach)
Osvaldo Golijov's Mariel, for cello and marimba, (Eric Willie on marimba) and John Tavener's Threnos, for solo cello. Each of these works was dedicated to the memory of deceased friends.