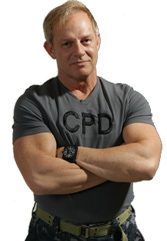 I tried Progene® four years ago and never looked back. The extra energy adds to my productivity on and off duty.
Cincinnati, OH (PRWEB) May 14, 2014
US Navy veteran and Progene Pro, Roger Robbins, announces the Progene® special 25% off savings for veterans on Progene® Testosterone Supplement and Progene® At-Home Test Kits. The Memorial Day offer ends June 30, 2014.
"Men don't have to put up with low testosterone," says Robbins. "I tried Progene® six years ago and never looked back. The extra energy adds to my productivity on and off duty."
Gulf War Veteran and Communications Specialist Robbins maintained a Top Secret/CAT III security clearance in the Naval Intelligence Group during his seven years in the US Navy. His civilian service includes undercover operations with the Cincinnati Police Department and his own investigative company.
"It's great that Progene® gives thanks to veterans," adds Robbins.
The natural testosterone supplement, Progene® helps men support their testosterone levels. Men lose 1-2% of their testosterone every year after levels peak in the late teens/early 20s. That could be up to a 50% loss by age 45.
Testosterone is basic to men. A naturally occurring hormone, testosterone controls the development and maintenance of masculine features. A fast and easy way to find out levels? The Progene® At-Home Testosterone Test kit.
Until now, most men had no way to find out their testosterone levels without going to a doctor's office.
The Progene® Test Kit requires only saliva to detect and measure testosterone levels which, according to the Journal of Clinical Endocrinology, is "a preferred method of measuring hormonal health." Just spit, seal, place in the pre-addressed shipping box and mail, postage and lab fees included. Results are ready within seven days at our FDA approved, CLIA certified lab and are accessed via the toll free phone number or at the Progenelab website. All tests remain anonymous.
Veterans can take advantage of the 25% off special and see for themselves how much testosterone production they've lost over the years, as well as measure the effects before and after taking Progene®.
What man doesn't want more power, performance and passion® in his life?
Proud to have veteran Roger Robbins on board as a Progene Pro, Michael Lee of Progene® says, "It's important to show our thanks to military personnel as they give so much of themselves to protect our way of life."
About Progene®
Founded in 2003, Progene® continues to lead the market by addressing the decline of testosterone levels in men as they age. With over 20 million tablets sold, Progene®'s dual-action formula of over 15 rare herbal extracts and clinically proven testosterone precursors helps to provide men the ingredients they need to produce more testosterone.
Progene® continues to evolve and innovate. The addition of the At-Home Testosterone Test Kit gives men the opportunity to actually see for themselves what Progene® can do to help restore their Power, Performance & Passion®.
For over ten years, Progene® continues to help men feel younger and live well™ with natural solutions to natural problems™.
Progene® is currently sold nationwide at Costcoand Costco.com, GNC Stores, Meijer, Stop & Shop, Bi-Lo Winn-Dixie, Vitamin Shoppe, Rite Aid, USADrug, Drugstore.com, Sears Marketplace, Harris Teeter Groceries, Brookshire's Food & Drug, LuckyVitamin.com, and more than 150 other local and regional retailers.
For more information about Progene® products, call 888-PROGENE, visit Progene.com, or go to faceook.com/800PROGENE.
PR Contact: Judith Hokanson 513-477-7973
Still have more questions? Please call Customer Service at 1-866-PROGENE.