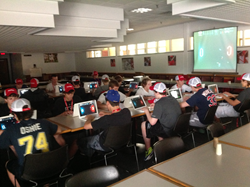 I have great appreciation for the significance of on-ice awareness and decision-making, vital components of cognitive training. I look forward to our collaboration with IntelliGym. - Dr Michael Stuart, Co-director, Mayo Clinic Sports Medicine Center
Montreal, Quebec (PRWEB) May 13, 2014
The cutting edge technologies to boost performance and health of athletes from the professional to recreational levels at the newly expanded Mayo Clinic Sports Medicine Center now includes online cognitive therapy for hockey players.
Applied Cognitive Engineering, creator of the Hockey IntelliGym, will provide cognitive training software for hockey at the new facility. Hockey IntelliGym was developed from software originally used to train Israeli and American Air Force pilots about aerial combat.
Cognitive training has taken off amongst thousands of players and hockey programs of all levels in recent years. The Hockey IntelliGym has been used by Major Junior clubs such as the Seattle Thunderbirds, Niagara Ice Dogs, Ottawa 67s, Regina Pats, and Portland Winterhawks. Major US College squads, such as the Union College Flying Dutchmen and the Air Force Falcons have also used the program.
"Science and trials with elite teams have shown that cognitive training is as important as lifting weights or practicing skills like puck handling, and makes players safer on the ice. We're thrilled to provide IntelliGym to the Mayo Clinic. This means a wider audience will reap the benefits of cognitive training," said Danny Dankner, CEO of Applied Cognitive Engineering.
"Our Mayo Clinic Sports Medicine Center team will help prevent injury, refine skills and speed recovery for athletes of all ages," said Michael Stuart, M.D., co-director of the Mayo Clinic Sports Medicine Center. "Our hockey performance solution program is designed to improve each athlete's skating, strength, fitness, nutrition, vision and cognitive abilities. As the chief medical officer for USA Hockey, I have great appreciation for the significance of on-ice awareness and decision-making, vital components of cognitive training. I look forward to our collaboration with IntelliGym."
Applied Cognitive Engineering developed the Hockey IntelliGym in conjunction with USA Hockey. Since USA Hockey's National Team Development Program (NTDP) began using the program in 2009, it has had major success on ice, including winning five IIHF U18 Men's World Championships
For more information on the Mayo Clinic's new Sports Medicine Center visit sportsmedicine.mayoclinic.org. For more information on the Hockey IntelliGym please visit http://www.usahockeyintelligym.com.