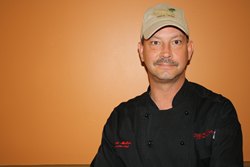 Charenton, LA (PRWEB) May 12, 2014
Scott McCue, Executive Chef at Cypress Bayou Casino Hotel, has been selected to compete in this year's Louisiana Seafood Cook-Off. McCue is the only Acadiana chef that will be featured at the prestigious event later this month.
"It's an honor to be selected as one of only 10 chefs from throughout the state to compete at this event. I love food and creating new exciting ways to present it to my guests. To be singled out as one of the exceptional seafood chefs in a state that is world-renowned for its seafood is humbling. I look forward to the competition and putting my creativity to the test." said McCue.
Born and raised in Tucson, Arizona, McCue worked in various upscale restaurants and resorts. He attended culinary classes at the Culinary Institute of America in Hyde Park New York. He moved to south Louisiana in 1995 to open Mr. Lester's Steakhouse. In 2005, McCue become Executive Sous Chef of Cypress Bayou Casino and in 2011, took over as Executive Chef of Cypress Bayou Casino Hotel, overseeing all nine-food outlet kitchens. McCue has been a member of the American Culinary Federation since 1996 and is a founding member of the Atchafalaya Basin Chapter of The American Culinary Federation since 1999. Competing in culinary competitions in Louisiana has earned him 115 medals: 47 Gold, 39 Silver and 29 Bronze and Best of Show winner in Culinary Classic competitions in Shreveport 2007, Lafayette 2007 and 2013 and in Baton Rouge 2000 and 2009.
McCue and 9 other chefs from around the state will compete in the 2014 Louisiana Seafood Cook-Off on May 24th at the Morial Convention Center in New Orleans during the Grand Tasting Event of the New Orleans Wine and Food Experience. The winner represents Louisiana in the Great American Seafood Cook-Off in August in New Orleans. The Great American Seafood Cook-Off is part of the Louisiana Restaurant Association's Annual Expo.
About Mr. Lester's Steakhouse
Widely regarded as one of the best restaurants in Louisiana, Mr. Lester's Steakhouse offers mouthwatering Prime Beef, outstanding Filets, magnificent Chateaubriand, Lobster, Salmon, Ahi Tuna and Glazed Shrimp. Appetizer and entree specials are prepared each evening using only the freshest ingredients and the creative talents of award-winning chefs. The wine list is as incredible as the cuisine!