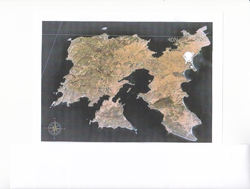 Sacramento, CA (PRWEB) May 14, 2014
Pliny provides evidence of an underground labyrinth built on the Greek Isle of Lemnos. Plato describes Atlantis location between Lemnos and Troy, in front of the Dardanelle Straits. A condensed version of this book was first published in 2010, and appears to have influenced the Greeks. Thirty satellite photos of the labyrinth location reveal someone has taken over, as of February 2013. An underwater Satyr sculpture was painted and is no longer visible, 50 boats appeared, the satellite feed was terminated and solar panels were installed. Satellite photos are no longer available.
In January 2013, satellite photos reveal two man-made lakes, glowing bright-white with reflected sunlight. In February, a dark gray dye-substance was inserted into Lake Alyki, and around the perimeter of the labyrinth (see before/after photos, linked). It appears the underground labyrinth was illuminated by this reflected sunlight. Evidence from Zechariah points to gold overlaid onto rock, under these lakes. Plato presents Atlantis with gold and silver in such an abundance that they used these precious metals as a building material. Evidence from all these writers, plus others, converge at Lemnos Island for a 'Fort Knox on Steroids' Atlantis hoard.
The timing of the pictured changes to the labyrinth location and the timing of Greece dramatic financial turn-around suggests a connection. Greece has transitioned from 100 billion of investor losses in 2012, to having securities return 30 percent in 2014 to Ap. 22, more than double the next-best performance among 34 sovereign markets tracked by Bloomberg World Bond Indexes (Jesse Westbrook in London, http://www.bloomberg.com/news/2014-04-23/samaras-met-dimon-for-greek-bonds-on-way-to-a-400-return.html). It appears congratulations are in order for Greece having confirmed the solution to the Atlantis Mystery, and for their success.
The following links to 'Atlantis, the ReNamed Island' provide a complimentary look at the 30 satellite photos that are no longer available. The Atlantis Mystery is now the Atlantis History:
http://www.amazon.com/Atlantis-Joseph-Daniel-Brady-MA/dp/1497449782/ref=sr_1_1?ie=UTF8&qid=1398007592&sr=8-1&keywords=atlantis%2C+the+ReNamed+Islandhttp://www.amazon.com/Atlantis-ReNamed-Island-Joseph-Brady-ebook/dp/B00JMPHZQ6/ref=sr_1_2?ie=UTF8&qid=1398007592&sr=8-2&keywords=atlantis%2C+the+ReNamed+Island#reader_B00JMPHZQ6