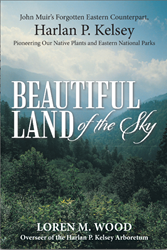 'Among the great explorers and crusaders for preservation, Kelsey stands out as the preservation hero of the East,' Wood said. 'The point is that Kelsey deserves his own pedestal, equal to that of Muir.'
Boxford, Mass. (PRWEB) May 14, 2014
Introducing an untold chapter in the history of American horticulture and the National Park service.
"Beautiful Land of the Sky" by Loren Wood captures the lifetime achievements of conservationist Harlan P. Kelsey, America's natural leader in selecting our most-visited National Parks in the early 20th century.
Kelsey's important contributions to horticulture, conservation and preservation in the Eastern United States mirror the work and accomplishments of John Muir in the West.
Whereas Muir established himself as the icon of Western wilderness and preservation- he helped father four national parks and his name is displayed in several official capacities- Kelsey's own accomplishments in preservation and conservation in the East receive minimal public recognition.
The author of this important biography, Wood, is the direct overseer of the Harlan P. Kelsey Arboretum in Boxford, Mass. Wood uncovered an estimated 50,000 items spanning half a century from Kelsey's files - the beginnings of the biography.
Wood's goal is to bring recognition to the commodities Americans are able to enjoy today because of Kelsey's achievements, including the gardening of native plants and visiting National Parks in the East.
"Among the great explorers and crusaders for preservation, Kelsey stands out as the preservation hero of the East," Wood said. "The point is that Kelsey deserves his own pedestal, equal to that of Muir."
"Beautiful Land of the Sky: John Muir's Forgotten Eastern Counterpart, Harlan P. Kelsey"
by Loren Wood
Hardcover, $40.95
Paperback, $30.95
e-Book, $3.99
ISBN: 978-1-47599-447-6
Available at amazon.com, barnesandnoble.com and bookstore.iuniverse.com
About the author
Loren M. Wood is the overseer of the Harlan P. Kelsey Arboretum and holds an MBA from Harvard University. He is a civic leader in the preservation of historic houses and scenic roads and a member of the American Alpine Club and the Harvard Travellers Club. Now retired from a career in finance, Wood lives with his wife, Sally, in Boxford, Mass and oversees the Harlan P. Kelsey Arboretum.