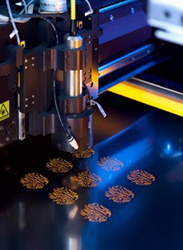 Technology is moving along at an alarming rate. Lasers that were once the domain of science fiction movies are now being used in the coin production industry. Their use will ensure that coins continue to be mini pieces of art, worthy of any collection.
London, UK (PRWEB UK) 13 May 2014
Mints have been around for countless decades, but recently the technology used in the production process has advanced dramatically. With the increased introduction of lasers in the coin die process, mints are able to lower their production costs and numismatists provided with coins that will carry intricate designs that are as close to perfection as possible.
According to an article published by Numismatic News on April 8, 2014, the company that is spearheading this new technology is FOBA Laser Marking & Engraving Solutions. FOBA's new laser die process will replace the old and now dated CNC milling processes that was not only labour intensive, but also prone to human error and blemishes that included die cracks and raised lines. Something that led to further time and labour being required to prepare the die for use.
The ability to engrave the desired coinage images directly onto the die after that die has gone through the hardening process will produce cleaner and more intricate designs on the surface of coins. For numismatists this will mean being able to add uniquely designed coins to their collections, keep them for extended periods of time whilst their value increases, and then sell them on looking almost as good as new.
In addition to the labour and cost saving advantages in the die production process for mints, FOBA's GP9000 laser engraving machine also offers additional advantages that might not otherwise be able to be utilised for additional coinage security. Security features such as micro inscriptions and micrometer-size symbols can be added to a working die in a consistent and extremely accurate way, that way saving time previously taken by a die engraver to manually craft the image.
Elliot Basker, Online Business Manager, Hallmark Coins, said, "Although the coin production process has been around for decades, these giant strides made in the die cast process can and will lead to some rather intricate and breath taking coin designs in the future. "These designs will not only stand the test of time when it comes to preserving the aesthetic and investment appeal of the coins for future numismatists, but also allow mints to dramatically reduce their production costs."
The laser technology offers significant advantages when die manufacturing requirements exceed the limits of what can be done using traditional mechanical processes. Saving mints time and money and ensuring the production of superior quality coins in the future that are visually appealing for numismatists.