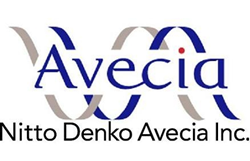 Regarding the ongoing expansion Kelly Behrendt, VP of Operations says, 'As the world's leading oligonucleotide focused CMO, Nitto Avecia has a unique view on the growing commercial potential of the market.'
(PRWEB) May 13, 2014
Through its ongoing analysis of future market demand, Nitto Denko Avecia Inc. has developed new processes and an expansion plan for the installation of assets that will support a 300% increase in manufacturing scale capacities. These enhancements are being phased in over the course of 2013 and 2014.
Among the most recent enhancements is the use of high loaded Nitto Phase supports to increase synthesis scale by 3 times within the same asset footprint while reducing solvent use per gram. Additionally, the alignment of downstream chromatography and ultra-filtration operations supports increasing synthesis scales through the installation of new state of the art large scale equipment.
In addition, the company's introduction of Thin Film Evaporation technology increases lyophilization capacities by three to four times for a typical oligonucleotide compound. This in turn reduces the need for the addition of expensive, resource and space intense freeze drying assets.
The benefits to Nitto Avecia's large scale and large volume clients will include the potential for reduced time in asset and a decreased need for multiple operation cycles in downstream operations. This is especially important in operations such as chromatography and lyophilization. All clients will benefit from Nitto Avecia's ability to continue to effectively support its entire client base as more compounds move towards commercialization and larger scale volumes.
Nitto Avecia will be presenting more information about its new technologies and capabilities May 12th – 15th at the TIDES Conference, which draws oligonucleotide and peptide professionals from around the world. Nitto Avecia's VP of Operations, Kelly Behrendt, will be giving a talk to Nitto Avecia's clients at TIDES during a private breakfast event on May 15th, titled: "Planning for the Future of Post Approval Oligonucleotide Therapeutics Manufacturing." Regarding the ongoing expansion Behrendt says, "As the world's leading oligonucleotide focused CMO, Nitto Avecia has a unique view on the growing commercial potential of the market. Nitto Avecia continues to strategically plan and proactively expand its capabilities to ensure a secure supply chain for all of our clients well into the future."
About Nitto Denko Avecia Inc.:
Nitto Avecia is a drug development and manufacturing services company with headquarters in Milford, MA, and is a part of Nitto, Japan's leading diversified materials manufacturer. Nitto Avecia is a recognized leader in the oligonucleotide therapeutic market, and with the acquisition of Girindus America's contract manufacturing business in 2013 has added radiochemistry and small molecule API development and manufacturing to its portfolio of services. Nitto Avecia's oligonucleotide facilities (in Milford, MA, and Cincinnati, OH) support DNA and RNA-based therapeutics throughout their lifecycle, and include such services as process and analytical development and pre-clinical production through large scale cGMP commercial manufacturing. To see how Nitto Avecia can help your business, please visit http://www.avecia.com.