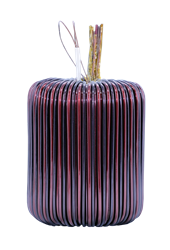 "This technology is giving much better performance – and also at the same time cheaper cost."
(PRWEB UK) 14 May 2014
Traftor is to showcase its innovative toroidal technology to the European market at the forthcoming edition of PCIM (Power Conversion Intelligent Motion), Europe's leading exhibition for specialists in power electronics and its applications in intelligent motion, renewable energy and energy management. The show will take place on 20 – 22 May 2014 in Nuremberg, Germany.
Traftor, which manufactures a range of toroidal inductors and transformers, is attracting a growing number of customers thanks to the numerous benefits offered by its unique technology, and sales are increasing rapidly, with growth of around 200% over the past year.
Jacki Li, CEO of Traftor, explained that Traftor's toroidal technology is helping meet the growing demand for higher frequency systems in the power electronics industry. "Our technology helps any company, using smaller components with lower EMI (electromagnetic interference) pollution and yet also contribution to much better overall system performance."
Traftor's toroidal technology is based around a magnetic core of toroidal shape that uses far fewer coil layers than E, EI or C magnetic cores, and also does not have a yoke, creating more room for the winding coil area (LIMB). This means that the technology can be used to produce smaller components that offer higher efficiency, lower EMI emission, lower noise, smaller volume, and lighter weight.
The technology can deliver a cost reduction of up to 20%, and Mr Li said that this provides the biggest attraction for many of Traftor's customers. "This technology is giving much better performance – and also at the same time cheaper cost. Delivering something that represents a technological breakthrough with a performance that can be considered a revolution but still with a much lower cost is very good for the customer."
"Our technology can be used across the world, in any application where a high-power electrical supply is required," Mr Li said. Traftor's technology is now well-established among uninterruptible power supply (UPS) providers, and is also widely used for applications such as telecommunications equipment; large data centres used by companies such as banks and internet providers; electric trains and now HEV (hybrid electric vehicle).
Traftor's main business activity takes place in Asia, primarily China and India. Its customers include several major players such as Schneider Electric, Emerson and Eaton, all of which manufacture across the world and are currently growing their production in Asia to meet the increasing demand in the region.
Traftor is now also looking to grow in other markets, in particular Europe. In August 2013, the company established its European subsidiary Traftor Europe, which is based closed to Annecy in the French Alps, to cater to the company's European customers.
Traftor will exhibit at PCIM Europe in Hall 7 at Stand 539.
About Traftor
Traftor specialises in the design and production of high-power toroidal magnetic components, offering customers across the world a range of winding solutions, with a particular focus on inductors of 25-500kVA / 50Hz-20kHz, and transformers of 3-250kVA / 50-20kHz.
Traftor was established in 2008. Following extensive R&D, Traftor has developped the toroidal technology further, so that it can be manufactured using automated, high-capacity machine-based production.
Traftor's toroidal winding solutions offer a range of benefits, including higher performance and efficiency, lower EMI emission, lower noise, smaller volume, lighter weight, and lower costs. Traftor's solutions are now used by a range of customers across the world, including uninterruptible power supply (UPS) providers and industries which require high-power conversions.
Traftor is headquartered in Shenzhen, China, where it has a technical center and factory. It also has a subsidiary in Europe - Traftor Europe - which is based close to Annecy in the French Alps.