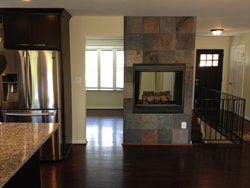 These events offer a glimpse of what the future of real estate could look like.
Annandale, VA (PRWEB) May 13, 2014
iFunding (http://www.ifunding.co), America's number-one real estate crowdfunding platform, is hosting a series of mixer events to bring together real estate leaders, including individual and institutional investors, home "flippers," commercial property operators, brokers/agents and real estate writers.
The next event is in Annandale, Virginia, 20 minutes west of Washington DC, on May 18th, 2014. This is an opportunity for those in real estate investing to exchange information, learn about crowdfunding as a method of rapid fundraising for real estate projects, and enjoy complimentary drinks and hors d'oeuvres. The event lasts from 6pm to 9pm on that Sunday, at 6710 Capstan Dr., Annandale, VA 22003, an elegant home that the co-host recently has refurbished. The address is easily accessible via I-395, I-495, and Route 66. RSVP at http://www.eventbrite.com/e/ifunding-dc-mixer-tickets-11514717831.
This VA/DC event is co-hosted by Justin Pierce, a regular contributor to the Washington Post's Where We Live online real estate section, where he provides insights on buying and selling properties. Justin commented that "I'm looking forward to sharing ideas and opportunities with fellow Virginia/DC real estate investors this week. iFunding is a great partner; they have a top business model for project investing and fund-raising online."
Previous events in New York, Boston and San Diego had nearly 100 attendees each. The New York event was covered in Real Estate Weekly as "offer[ing] a glimpse of what the future of… real estate could look like." William Skelley, CEO of iFunding, added that "the rapid growth of crowdfunding shows how much the industry is changing, and how widely the opportunities are expanding for both individual investors and developers to profit from real estate. We've found that these social gatherings are the best way to brainstorm with others about what the real estate market can become. And, we're looking for several experienced and connected real estate professionals who would like to assist iFunding in major cities around the US." Interested parties can write us at partners(at)innovationalfunding(dot)com.
About iFunding
iFunding dramatically is expanding the opportunities for individuals to invest in institutional-quality real estate deals. In contrast to traditional real estate investing, which is typically accessible to those with industry contacts and extensive capital, crowdfunded investment opportunities through iFunding have minimum investment amounts as low as $5,000. Property classes range from single family homes, the most popular type of investment, to multi-family residences, retail locations and office buildings. iFunding emphasizes preferred equity investing but also offers debt investments. The company directly oversees each deal throughout its lifespan, to deliver what the company believes is the most attractive mix of financial returns and investment security. iFunding also is one of the longest-operating real estate crowdfunding companies. Interested parties can learn more and register to view investment opportunities or list deals at iFunding.co. The company also can be interacted with on LinkedIn, Facebook, and Twitter (@inno_funding).
About Justin Pierce
In addition to contributing to the Washington Post's real estate column, Justin Pierce is President of Snow Goose Homes, LLC, a real estate development and investment company. He also is a licensed real estate agent in Virginia. He has been featured in Kiplinger Magazine and on Fox 5 news. He can be followed on Twitter via @justinpierce1.