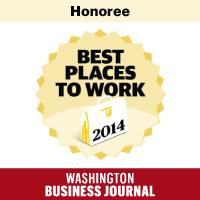 The combination of highly skilled employees and a strong work culture has allowed us to successfully provide top-tier cloud management and IT support services for years
Vienna, Va. (PRWEB) May 13, 2014
Cetrom Information Technology, Inc. (Cetrom) today announced it has been named as one of the Washington Business Journal's Best Places to Work in Greater Washington for the second year in a row. An industry-leading provider of custom cloud solutions, Cetrom ranked among the top 25 companies in the small business category, as announced during an award banquet on May 9, 2014, at The Ritz-Carlton, Tysons Corner in McLean, Va., and in "The Best Places to Work in Greater Washington" special section of the Washington Business Journal on May 10.
Cetrom's latest honor from the Washington Business Journal confirms the company's status as one of the area's leading employers. Each year, the Washington Business Journal chooses companies in the area that provide a meaningful and enjoyable working environment for their employees while continuing to provide exemplary service to their customers. Cetrom's inclusion on the list is a direct result of its collaborative culture, commitment to open-communication at all levels within the company and high standard of professionalism.
Christopher Stark, president and CEO, Cetrom, said, "Cultivating a workplace environment where our employees feel valued truly benefits the company as a whole. The combination of highly skilled employees and a strong work culture has allowed us to successfully provide top-tier cloud management and IT support services for years and will continue to do so well into the future. It's an honor to be recognized by the Washington Business Journal for the emphasis we place on the well-being and happiness of our Cetrom team."
The full list of winners can be found here:
http://www.bizjournals.com/washington/event/97701#eventDetails
About Cetrom Information Technology, Inc.
Cetrom Information Technology, Inc. is an industry-leading provider of custom cloud solutions that are backed by high-end technology and support teams who consistently achieve near-perfect satisfaction ratings. The company creates IT solutions to meet specific user, mobile, security and application needs for a variety of SMBs including accounting and CPA firms, associations and nonprofits, law offices, and travel management companies. A Microsoft Partner with multiple Gold Competencies, Cetrom is headquartered in Vienna, Va., with offices and SSAE 16-compliant data centers across the United States. Since its founding in 2001, the cloud computing trailblazer has maintained a spotless track record of zero downtime and was recently named a Cloud Computing Excellence award winner, an Inc. 500l5000 company, one of Virginia's Fantastic 50, and a Washington Business Journal Best Place to Work. Together with technology partners like Citrix, Dell, EMC2, Lenovo and CenturyLink, Cetrom is evolutionizing IT. Learn more at http://www.cetrom.net.