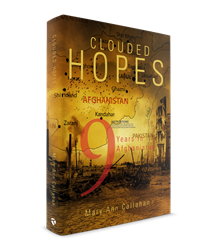 Binghamton, NY (PRWEB) May 13, 2014
Mary Ann Callahan, an aid worker who taught journalism among other efforts during her nine years of service embedded within a fledgling democracy, discusses life in Afghanistan in three books, including her newest, "Clouded Hopes: 9 Years in Afghanistan."
Callahan, now 60, experienced life in Afghanistan among the native population from 2003 to 2011, when she was forced to move behind international barricades because of increasing threats to foreigners in Afghanistan. During her time there she worked on various humanitarian projects under the aegis of the U.S. Agency for International Development.
"By the end of this year, the United States will have spent more than $102 billion on Afghanistan reconstruction projects – from roads to wells to education – since 2002; tragically, we haven't been able to buy a stable, thriving democracy there," Callahan says.
"The problems boil down to a failure on our part to understand their culture, which impeded our ability to effectively communicate with the Afghans and to provide them with what they really needed."
In "Clouded Hopes," Callahan details life in Afghanistan for both the international teams who came to build and the Afghans with whom they worked. The second in a series in which Callahan draws from her years working in the development community in Afghanistan, she presents a personal story that offers new perspectives on the events in Afghanistan and the U.S. role in rebuilding developing nations.
For all that the United States has done to try to improve Afghanistan by providing infrastructure, life for the people there has gotten worse, she says. In a Gallup poll last year, 55 percent rated their lives as ones of "suffering."
"As with Iraq today, life in Afghanistan is rife with corruption; big money flowed into a war-torn, broken country and both the natives and the workers wanted it," Callahan says.
To say our dwindling role in the country is difficult doesn't do the tragedy of the scenario justice, she says.
"My hope is that books like mine will serve as an insight into the Afghan people and culture, and we'll learn from this longest military campaign in our nation's history," she says.
About Mary Ann Callahan
Mary Ann Callahan (http://www.callahans-pen.com) worked in Afghanistan from 2003 to 2012 in a variety of capacities, most involving communications. She developed and implemented an independent journalism program that trained Afghans to accurately report on international development efforts in their country, and received recognition from both the U.S. and Afghan governments for her work. She is the author of three books based on her experiences. "Clouded Hopes" is the second in a series that also includes "Clear Differences: Short Stories from Afghanistan." Her children's book, "Little Heroes," is about two cats growing up in Kabul and Paris and helps to acquaint young readers with the disparities of our world.