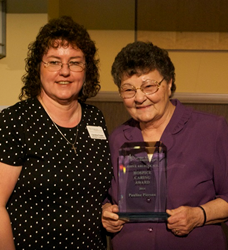 I feel like I'm being helpful to someone. But what I have found is that selfishly I have been helped probably more that I have helped them.
South Bend, IN (PRWEB) May 13, 2014
Center for Hospice Care (CHC) is proud to announce that Plymouth resident, Pauline Pierson received the 2014 John E. Krueger Hospice Caring Award at the annual Volunteer Recognition and Annual Report Luncheon held at the Century Center in South Bend. The John E. Krueger Hospice Caring Award was initiated in 1994 and awarded to the man whose name it bears for his years of devoted volunteer service. This award is given annually to a volunteer(s) who exemplify his commitment.
"I am so grateful for Pauline and all that she does for our volunteer program at Center for Hospice Care," noted Caroline Fowler, volunteer coordinator. "Her passion for hospice care is evident by the years of dedication she has given to our patients, families and staff. She is so deserving of this award."
It's been 29 years since Pauline first heard about volunteering for the Center for Hospice Care. She knew right away that Hospice would be a good fit for her. After Pierson completed volunteer training she began with patient care and office work. Later, she moved on to bereavement calling — counseling those who had lost a loved one. She has also volunteered at the Walk for Hospice and at Camp Evergreen, a camp for children who have lost a loved one.
"I've always been so impressed with the Hospice philosophy," expressed Pierson. "It's been a blessing to know the people involved and the patients. I feel like I'm being helpful to someone. But what I have found is that selfishly I have been helped probably more that I have helped them. Volunteering at Center for Hospice Care lets me do some good."
Perhaps one reason that Pauline is so committed to Hospice is that she has experienced her own losses. "I can relate to patients and families because I've been there," she expressed. Pauline's husband was a hospice patient and she also lost her grandson. "I got a lot out of the bereavement classes – they helped me in my own grieving process. I knew this would be helpful for others, too."
The Man Behind the Award: John Krueger
Born in Michigan City, Indiana John E. Krueger graduated from Indiana University School of Medicine. He became an intern at Eloise General Hospital, a facility for the indigent and mentally ill in the Detroit area, and began pursuit of his goal to be a surgeon.
Unfortunately the war in Europe halted his pursuit, at least temporarily. Dr. Krueger completed an abbreviated surgical internship in nine months. Then, he shipped out to Germany as a medical officer. He remained overseas for two years.
In the 1970s Dr. Krueger experienced another unexpected life altering event. Living in South Bend and working at St. Joseph Hospital – where he began and ended his career – his wife and the mother of his three children died as the result of a brain tumor. Through the support of his colleagues and his friends, he found the strength to move ahead as he worked through his loss. At the same time, Dr. Krueger recognized the need for others, patients and caregivers, to have support when facing terminal illness.
At about the same time in the United States, the hospice movement, adopted from England, had begun to take hold. Hearing about it, Dr. Krueger and others involved in the care of the dying believed that it could be a great value for the local community. Along with 20 or so individuals, he began to explore the possibility of beginning a hospice program. The group's efforts came to fruition with the establishment of Hospice of St. Joseph County, Inc. in 1978.
Center for Hospice Care is a premier not-for-profit, community-based agency improving the quality of living through hospice, home health, grief counseling, and community education. With offices in South Bend, Plymouth and Elkhart, Center for Hospice Care serves St. Joseph, Marshall, Elkhart, Fulton, Kosciusko, LaGrange, La Porte and Starke Counties.