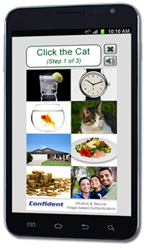 'There is definitely a fast moving trend of businesses determined to modernize their approach to human verification,' stated Curtis H. Staker, CEO of CTI. 'Websites and mobile users no longer need to sacrifice bot protection for consumer satisfaction.'
San Diego, CA (PRWEB) May 13, 2014
Driven by the mission to provide authentication and verification that is usable for humans and difficult for malicious endeavors, Confident Technologies, Inc. (CTI) has received USPTO #8,621,578 for "Methods and Systems for Protecting Website Forms from Automated Access". Now with 7 granted and 17 pending patents, this issuance further solidifies CTI's position as a leader in image-based security technologies. With over 1,300 deployed websites and 35 million (and growing) human verification requests per month, the recognition that websites and mobile websites can be protected from bots without adding consumer friction is confirmed.
"We are pleased and excited to receive this important patent," stated Curtis H. Staker, CEO of Confident Technologies. "There is definitely a fast moving trend of businesses determined to modernize their approach to human verification. Traditional CAPTCHAs create difficulty for the user causing a high level of website abandonment. Confident CAPTCHA combines the ease of recognizing and selecting images with a very difficult obstacle for bots. Websites and mobile users no longer need to sacrifice bot protection for consumer satisfaction."
More than 10 billion CAPTCHAS are served worldwide each month, representing a small percentage of the total combined number of human and BOT activities that websites receive monthly. These bots, designed to act like humans, not only create security and fraud issues, they consume large amounts of bandwidth and IT resources. Recent findings show 61% of all website visits originate from bots, increasing the necessity of businesses to protect against user credential harvesting, bot automated purchase processes, automated voting, mass registrations and blog spam. Creating a level playing field requires technology that differentiates between humans and bots without creating obstacles or friction to the users in this age of infinite information access, instant gratification, shortened attention spans and the availability of competitive choices. With a human success rate of 93% to 95% and an average solve time of 7 seconds, Confident CAPTCHA™ is proving to be the solution of choice for this challenge.
About Confident Technologies
A global provider of patented, image-based security which provides intuitive and secure authentication and verification solutions while improving user experience. The technology strengthens protection of websites, web and mobile applications from user credential harvesting and bot attacks. Our products support a broad spectrum of industries from small businesses to large enterprises protecting against modern and evolving digital security threats.