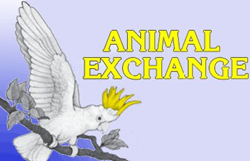 You are invited to bring your pets to the store location for this ecumenical blessing.
Rockville, MD (PRWEB) May 14, 2014
On Friday, May 23, 2014, Animal Exchange, a pet store located on Hungerford Drive in Rockville, will celebrate an ecumenical Blessing of the Animals at 4:30 p.m. The blessing will be preceded by a book reading. Harrison Bae Wein will read from his book, The Life and Opinions of the Housecat Hastings, on Friday, May 23rd at 3:30 pm. Wein's book is an insightful life story of an extraordinary cat. The book is available in print, and on e-readers, including Kindle and Nook.
The annual Ecumenical Blessing will follow the book reading at 4:30 pm. You are invited to bring your pets to the store location. Because some pets are not as interested in social events as others, we encourage these Pet Lovers to attend the blessing, accompanied by pictures of their pets instead of bringing the animal to the store. Refreshments will be served for animals and their owners. Please contact Ruth at 301-424-PETS for more information.
About Animal Exchange. Animal Exchange, since 1979, is a pet store located in the heart of Rockville. The owner, Ruth Hanessian, is well-known in the community and is the author of a book on bird psychology called "Birds on the Couch." The business specializes in locally raised pets, from hamsters to cockatiels and mice to macaws. The store includes a large selection of birds and small mammals. Animal Exchange also has reptiles and amphibians. Customers can also purchase dog and cat supplies, including Precise Foods. For more information, please visit http://424pets.com/index.html.