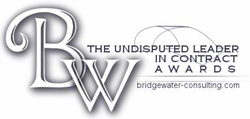 The government spends more money than anyone else, and they spend money that isn't theirs so they don't mind doing it. It makes no sense to disregard this market.
Columbia, SC (PRWEB) May 14, 2014
May 12th-May 16th is National Small Business Week. In honor of this, the General Services Administration and the Small Business Administration is hosting several seminars and Q&A sessions to reach out to small businesses looking to get involved with the government market. However, for many small businesses, accessing this market seems an almost insurmountable goal – bogged down by red tape and steep price cuts. However, the government market is very accessible to the small businesses of America, in fact for 2013, GSA alone spent $1.3 billion with small businesses (GSA Blog).
"The trick…" states Tayler Center, a senior procurement specialist at the Bridgewater Consulting Group, a multi-million government consulting firm. "…is getting yourself lined up with the government's procedures. The government spends a ton of money, and they spend money that isn't theirs so they don't really mind doing it. They're just looking for that path of least resistance to procure the required goods and services. However, a vast majority of companies are not lined up with the government – many not even realizing there is a way to line themselves up."
For most businesses, this means getting involved with a contract vehicle, with the federal supply schedules being the most prominent – especially for small businesses. Having approximately 40 different schedule contracts spanning the same amount of industries, the schedules can provide the access point most companies need to truly penetrate the government market. "Some agencies actually require it for certain things," continues Center. "It makes sense. As they streamline the acquisition process – approximately 2 weeks versus 9 months in the bidding process – it saves the government from a lot of wasteful spending. Essentially, the money spent is actually on the goods and services and less on administration costs."
What industries are they looking for, though?
The schedules cover a myriad of industries. In some cases, the outlet is obvious. Speer Operational Technologies (GS-07F-016BA), a client of Bridgewater Consulting, is a small business in South Carolina that distributes life saving devices for war and disaster use. "They have a device called an Abdominal Aortic & Junctional Tourniquet that can prevent upper and lower hemorrhaging, keeping a critically injured person alive long enough to receive proper treatment and dramatically increase the possibility of over survival. It is nothing short of amazing!"
However, there are also industries that, while maybe not life-saving, are still crucial to the flow of government needs. Virgil's Automotive Paint (GS-21F-109AA), for instance, is a premiere distributor for automotive coatings and supplies. "Virgil's Automotive has all the major brands like 3M, and has the benefit of being a small woman-owned business right in California for easy access. They can fulfil set asides, provide great product, and with Schedule 51V restructuring now, this is a great go-to company for your coating needs," says Tayler Center.
Products are fairly obvious, but what about services?
"It's a common misconception," says Brian Beyer, another procurement specialist at the Bridgewater Consulting Group. "That the schedules are just about products. Services actually account for more than half of the schedule contracts – ranging from IT consulting, translation services, and environment services. One of our clients, for instance, named Marcus Bole & Associates (GS-10F-101BA), out of California recently got on Schedule 899, and is eager to provide environmental assessments and permitting to the government, particularly the Department of Veteran Affairs."
What if your company covers multiple industries? Are you allowed to have multiple schedules?
While you will have to go through the application process for each schedule, some companies do qualify for multiple schedule contracts. Some of the top contractors actually hold over half of them, such as Lockheed Martin. "For most small businesses," states Georgie Shirley of the Bridgewater Consulting Group. "One schedule will suit them fine. However, there are some companies like our client Data-Link Associates (GS-02F-0147U and GS-07F-9694S) that have earned more. Having multiple spots for the government to access you will only benefit your company, and as the government likes one-stop shopping, it can be very advantageous. Data-Link actually fields orders constantly for its quality storage systems for computer media, Laptops, Ipads and Weapons."
Do you have to be located in the United States?
One of the major perks of utilizing the schedule contracts is that it ensures American made products are sold at the forefront, securing more jobs across the country – especially important in this economic climate. However, the schedules are a global contract that reaches out to TAA compliant countries as well. "While a vast majority of companies are based in the United States," explains Tayler Center. "There are a few companies from countries like Japan, England, and particularly Canada. One of our clients named Amylior (V797D-40026), out of Quebec, is a major manufacturer of powered wheelchairs that supplies the government with high-quality equipment – particularly to our disabled veterans."
With billions spent through the schedules every year, and more and more significance placed on having one, the federal supply schedules are an opportunity few companies that are looking to expand and diversify their business can disregard, especially with the average amount made on schedule being a little over $2 million a year.
For further help in government contracting, contact the Bridgewater Consulting Group at 803-250-3737 or go to their website.
Further contacts:
Speer Operational Technologies: 864-631-2512
Virgil's Automotive Paint: 760-873-8777
Bole & Associates: 530-633-0117