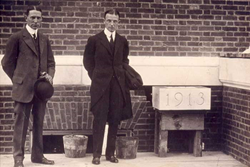 Abington, PA (PRWEB) May 12, 2014
On Thursday, May 15, 2014, a beacon in the community for the sick and injured will celebrate 100 years since it first opened its doors with an outdoor celebration for its employees, physicians and volunteers from 3 p.m. to 5 p.m. at 1200 Old York Road in Abington.
The festivities celebrating Abington Memorial Hospital's anniversary include entertainment by a rock band led by Surgeon Guy Lee, M.D., a display of hospital artifacts and historic documents from the hospital's archives, "shout outs" to several 100-year-old retirees who are planning to attend, and a celebratory flash mob.
Here's a complete list of activities:

Unveiling of the Wall of History (documenting last 25 years) on "Main Street" hallway in the Widener Building at 3 p.m.
Coworkers can take "selfies" with a life-sized Steeple (part of the hospital's logo)
Visit the display of hospital artifacts and historic documents
Musical entertainment provided by rock band "Rose's Cross," featuring Guy Lee, MD, orthopaedic surgeon at the Abington Health Orthopaedic & Spine Institute
Meet our 100-year-old retirees
June Fete flash mob
Remarks by leadership
The Vision for a Hospital
In the early 1900s, Abington was rural with many working farms, and the nearest hospital was eight miles away in Philadelphia. Residents had to travel on rough roads, usually in horse-drawn carts or buggies for treatment of injuries ranging from farm and auto accidents to trolley car mishaps. Traffic on Old York Road was ever-increasing with the introduction of the automobile and the use of trolleys shuttling weekend visitors to and from Willow Grove Park, which was an amusement park at the time.
Having one of the area's first cars, local landowner George W. Elkins, Sr. was occasionally called upon to transport injured patients. Legend has it that passengers died en route, bringing home the need for a hospital in Abington. Elkins shared his concern at a local pinochle game, and the players stopped the game to arrange a town meeting. Another prominent resident, Mrs. Charles Kruger, who had opened her home for use as an emergency hospital on occasion, joined Elkins to help with the planning. – AMH 75th Anniversary Annual Report
"Employer Drives Injured Gardener to Hospital – George Elkins Places Man in Auto and Rushes to Institution." – Philadelphia Inquirer, September 23, 1910
Abington Opens its Doors on May 15, 1914
When it opened to the public, the original hospital had 48 beds and was staffed by six graduate nurses and nine student nurses. According to the Philadelphia Inquirer, May 16, 1914 issue, the hospital dedicated three days for public inspection, (May 15, 16 and 17) – "Those who visited the hospital today to inspect the structure were met by Miss Ida Southard, the superintendent and her staff of nurses; by Mr. Elkins, Jr., and his associates on the board of trustees, and by the members of the board of women managers, who served as a Reception Committee." It was estimated that more than 10,000 people visited the hospital during the three days, bringing donations including vegetables, jelly, flour and canned fruit.
As noted in AMH's First Annual Report – The hospital was opened with Miss I. M. Southard, superintendent; Miss O.N. Frick, assistant superintendent; Dr. A.M. Struse, chief resident; six graduate and nine pupil nurses. An executive committee of the staff was appointed. According to "The Staff Through the Years – A Chronicle of Progress," by John T. Sharp, D.P.M., "administration of the hospital was performed by Miss Southard and Miss Frick – both nurses, both graduates of the Hospital of the University of Pennsylvania."
In the first year, the hospital treated 763 patients and expanded to 62 beds.
The attached "AMH Through the Years" document includes an abbreviated version of the hospital's history. To view the complete timeline, as well as stories submitted by employees, patients and other friends of AMH, please visit http://www.abingtonhealth.org/100.
Poised for the Future
Over the years, Abington Memorial is noted for being the flagship hospital for Abington Health, a health system comprised of two hospitals, the founding hospital and its sister hospital, Lansdale Hospital in Hatfield Township. Equally focused on outpatient care, Abington Health also encompasses four outpatient campuses, a large network of primary care physicians and specialists called Abington Health Physicians, and two Urgent Care Centers. Together these entities serve more than 39,000 patients, 134,000 emergency patients, and more than 653,000 outpatient visits annually.
The Celebration Continues
At the June Fete Village Fair on Sunday, June 8, we celebrate Community Day whereby admission to the fair is free to anyone with a complementary ticket. See an Abington Health employee to get yours or visit abingtonhealth.org/junefete. The June Fete benefits Abington Health.
About Abington Memorial Hospital
Abington Memorial Hospital is a 665-bed, acute care teaching hospital with a medical staff of more than 1,100 physicians and more than 5,600 employees. These professionals provide medical care and health services to residents of Bucks, Montgomery and Philadelphia counties.
A regional provider, Abington Memorial Hospital has the only Level II accredited trauma center in Montgomery County and offers highly specialized services in cardiac care, cancer care, neurosciences, orthopaedics, home health and maternal/child health.
###