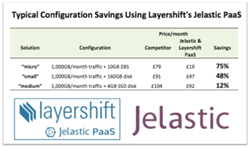 We're blowing the market wide open today by offering our advanced PaaS/IaaS solution at prices significantly below that of even basic IaaS territory
San Mateo, CA (PRWEB) May 13, 2014
Jelastic, Inc., the first company to deliver Platform-as-Infrastructure and Layershift Ltd., a global leader in high-quality managed hosting, today announced that Layershift will offer their Jelastic PaaS customers new lower pricing that provides enterprise-class PaaS/IaaS functionality at up to 75% less than competitive solutions.
The new pricing is part of a Layershift "Spring Sale" which applies to new and existing users until June 20th, 2014 and provides the following typical savings:
75% savings on a "micro" configuration (1,000GB/month traffic + 10GB EBS)

Jelastic/Layershift pricing of £19/month compared to £79/month competitor price
48% savings on a "small" configuration (1,000GB/month traffic + 160GB disk)

Jelastic/Layershift pricing of £47/month compared to £91/month competitor price
12% savings on a "medium" configuration (1,000GB/month traffic + 4GB SSD disk)

Jelastic/Layershift pricing of £92/month compared to £104/month competitor price
"We're blowing the market wide open today by offering our advanced PaaS/IaaS solution at prices significantly below that of even basic IaaS territory," said Damien Ransome, Service Director at Layershift. "This aggressive new pricing, combined with additional savings from pay-per-use billing delivered by Jelastic's unique dynamic scaling features, provides our customers with significantly better ROI than competitive cloud solutions - delivering the full potential of the cloud."
Simplifying cloud billing
Cloud hosting services usually require the user to calculate up to 12 different resource types to determine the final price. This causes confusion and makes it hard to compare one provider's true cost with another.
Layershift's Jelastic PaaS removes these complexities. The first 10GB disk usage is included free, so most users don't need to worry about disk usage at all, but if they exceed 10GB they only pay for actual disk consumption - no pre-booking needed. The same applies to traffic, with the first 2GB/hour free (up to 1.5TB/month).
This leaves most users with just a single resource to consider: the cloudlet (Jelastic's composite RAM and CPU resource unit). Layershift is slashing cloudlet prices by 35 - 48%, as well as simplifying its automatic volume discount structure, enabling it to offer enterprise PaaS/IaaS functionality for much less than the competition.
"Jelastic's goal is to provide software that results in a simpler, more efficient cloud" said John Derrick, Jelastic CEO. "Our unique, dynamic scaling means that customers pay for resources actually used by applications, not for blocks that they have to reserve just in case an application needs to scale. This delivers better value to customers and unique differentiation to our partners, and is just one factor that is making Jelastic a leading solution for hosting service providers across the world."
Additional savings through dynamic scalability
Traditional cloud pricing models force users to buy resources in tiers, with each tier providing more resources with more cost. The drawback of this model is that users requiring small increments of additional resource are forced to go to the next tier, even if that tier far exceeds their requirements.
In contrast, Jelastic's unique pay-per-use model with dynamic scalability means that users are only charged for the resources they actually use. The user sets minimum and maximum scaling limits to suit their application's needs and budget, with resources dynamically scaled up and down between those limits. This provides significant savings over competitive solutions.
Platform-as-Infrastructure
Jelastic's Platform-as-Infrastructure is a turnkey cloud solution that can be deployed as a private, public or hybrid cloud.
Platform-as-Infrastructure combines the traditional paradigms of Platform-as-a-Service and Infrastructure-as-a-Service to provide a comprehensive Java and PHP hosting platform.
Jelastic achieves significant deployment, management and operational savings by delivering a turnkey cloud platform, for a fraction of the cost of existing virtualization solutions.
For developers, Jelastic provides one-click deployment and automatic scalability of Java and PHP applications without the need to code to proprietary APIs.
About Layershift
Layershift Limited is a global leader in high-quality managed hosting services with infrastructure in the UK, New York, and Singapore. Layershift's team of virtualization and hosting industry professionals use more than a decade of experience to consistently deliver end-to-end excellence in all aspects of the company, backed by their renowned technical support team achieving exceptionally high customer satisfaction (rated above 97% in Q1 2014). Find out more about Layershift's Cloud VPS, Jelastic PaaS and other services at http://www.layershift.com.
About Jelastic
Jelastic, Inc., provides enterprise software that re-defines the economics of cloud deployment and management. Jelastic is the first company to deliver Platform-as-Infrastructure, combining the flexibility of IaaS and the ease of use of PaaS within a single turnkey platform, at a fraction of the cost of existing virtualized environments. Jelastic, headquartered in San Mateo, California, enables enterprises and hosting service providers to unleash the full potential of the cloud. For more information or to start a free, two-week trial, visit us at http://www.jelastic.com.