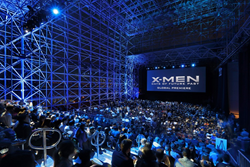 (PRWEB) May 12, 2014
In what is sure to be one of the most elaborate movie premieres in history, 20th Century Fox teamed up with Samantha Sackler Productions to produce an experience like none other for the global premiere of X-Men: Days of Future Past. From the custom-built theater with a state of the art sound system overlooking the Hudson River to one of the tallest step and repeat backdrops, this was an incredible experience for all attendees.
The event took place at the Jacob K. Javits Center in New York City on Saturday, May 10th. The event included a 1,300 person theater built especially for the occasion, a 3-Dimensional holographic stage using Musion 3D hologram technology, and a 184' wide by 20' tall step and repeat wall. The cutting edge technology weaved throughout the event brought the audience an inside look into the world of X-Men. At over 18 feet tall the hologram stage projected X-Men characters and sneak peeks of the movie throughout the night as a Yahoo live stream featured cast interviews.
To enhance the fan experience, the first 500 fans in attendance received special placement right on the X-Men carpet arrivals and the chance to see the film at a nearby theater. Another 1,000 fans were watching the live feed on a jumbotron.
"It was an honor to work with the team at 20th Century Fox to create this truly amazing experience for the fans. The fans were incredible and the talent spent time signing autographs and participated in selfies. This movie is bigger and more amazing than anything we had seen before and we thought that the premiere should do it justice," said Samantha Sackler Owner, Samantha Sackler Productions.
This event was truly a night to remember and a fitting tribute to one of the most anticipated summer releases.
About Samantha Sackler Productions
Samantha Sackler Productions is a full-service, fully integrated marketing and event production company that has seen over 1,000 events through from conception to execution. Ranging from movie premieres and product launches to corporate events and weddings, events by Samantha Sackler are consistently impeccable and always unforgettable. For more information on Samantha Sackler Productions, visit http://www.samanthasackler.com.
Contact:
Linda Buckley
VP Marketing
Samantha Sackler Productions
linda(at)samanthasacklerproductions(dot)com
310-873-3660