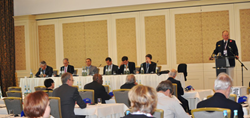 For 21 years the IJC has provided an opportunity for over 1400 chief and associate justices from 110 countries to gather together in an informal setting to exchange ideas, learn how other countries solve rule of law problems and establish a collegium.
San Francisco, CA (PRWEB) May 15, 2014
Eighty senior judges from Supreme, Constitutional, and Commercial Courts in more than 50 countries worldwide will convene in Valetta, Malta on May 21-23 for the 17th annual International Judicial Conference (IJC). The conference will discuss such issues as the rule of law in diverse cultures, the role of the judiciary in the electoral process, constitutions and first principles, Shari'a in a civil setting and the rule of law, as well as IJC's continuing themes of ensuring judicial independence and the rule of law.
For the past 21 years the IJC has been organized and sponsored by the Furth Family Foundation, and is co-sponsored this year by the Judiciary of Malta, the University of Michigan Law School and the International Foundation for Electoral Systems. Chairman of the IJC since its inception is Frederick P. Furth, Esq., also Chairman of the Furth Family Foundation. Professor Timothy Dickinson and Peter G. Kelly, Esq. are serving as this year's Vice Chairmen. His Honor Silvio Camilleri, Chief Justice of Malta will participate in the conference.
The annual conference provides an opportunity for justices to develop their perspectives on issues affecting judicial independence and conduct while fostering contact and communication among themselves. Official conference languages are English, Russian, French and Spanish.
A media conference is scheduled for May 21 at 18:15 at the Grand Excelsior Hotel in Floriana, Malta.