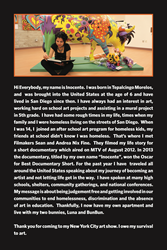 Dianne B. Bernhard, Director of Fine Arts remarked, "INOCENTE's work is fresh and original and the hottest pop art produced by a young artist today."
New York, NY (PRWEB) May 13, 2014
WHO: The National Arts Club with host, Director of Fine Arts, Dianne B. Bernhard presents Pop Artist INOCENTE, young artists from Rudolf Steiner School, young artists from Broome Street Academy and Marte Valley High School.
WHAT: Opening reception for Grand Gallery Exhibit of recent work by INOCENTE, preceded by a special screening of Oscar winning documentary "INOCENTE". Exhibits by the students of Broome Street Academy, Rudolf Steiner School and Marte Valley High School.
WHERE: The National Arts Club, 15 Gramercy Park South NYC
WHEN: Thursday, May 15, 2014
5:30 – 7 PM Screening of Documentary INOCENTE
7 -9 PM Opening Reception
Exhibit is May 12 – 17 (call for appointment for a private walk through)
WHY: The National Arts Club brings the importance of art in Education to the forefront this week with it's INSPIRING ARTS EDUCATION Exhibit featuring the work of INOCENTE, a once homeless young artist on the streets of San Diego. Through the power of art, INOCENTE, became the subject of the Oscar Winning Documentary, "INOCENTE" by Sean and Andrea Nix Fine. The documentary follows INOCENTE's journey as she paints her way out of homelessness. Upon viewing the recently created work Dianne B. Bernhard, Director of Fine Arts remarked, "INOCENTE's work is fresh and original and the hottest pop art produced by a young artist today."
Young artists, from Broome Street Academy, many who are homeless or come from challenging circumstances will exhibit their art as well. Broome Street Academy provides services through its partner program
The Door to more than 11,000 young people from all over New York City, with a wide range of services including health care, education and arts education.
The Door is unique in its ability to meet the complex needs of New York City's disconnected youth. "Imagine being homeless and just wanting to do art, Broome Street Academy gives the homeless kids in New York City that opportunity," stated Bernhard.
On display will also be a comprehensive exhibit of class studies from the Rudolf Steiner School, the oldest Waldorf School in America. An engaging and striking display of how art can be used across all subjects of study. Waldorf education has become the most recognized educational movement with over 1,000 schools worldwide, incorporating a thorough arts-integrated curriculum, including drawing, painting, clay modeling, poetry, music and drama into its daily studies of reading, writing, arithmetic, science, history, languages and geography.
The week long exhibit will finish with a panel discussion on the impact of art in education featuring Eric Pryor, Executive Director of The Center for Arts Education of NYC and Susan MacLaury of SHINE GLOBAL. May 16, 12 – 2 PM, Call to reserve your space.
ABOUT THE NATIONAL ARTS CLUB:
The National Arts Club was founded in 1898 by author and poet Charles De Kay, the literary and art critic for The New York Times. He together with a group of distinguished artists and patrons conceived of a gathering place to welcome artists of all genres as well as art lovers and patrons.
Club's Membership has included three U.S. Presidents: Theodore Roosevelt, Woodrow Wilson and Dwight D. Eisenhower. Among the distinguished painters who have been members are Robert Henri, Frederic Remington, William Merritt Chase and Cecilia Beaux. Sculptors Augustus Saint-Gaudens, Daniel Chester French, Anna Hyatt Huntington and Paul Manship were all members as were composer Victor Herbert, conductor Walter Damrosch, photographer Alfred Stieglitz and architects Stanford White and George B. Post.
Renowned for its expansive American art collection, the Club owns works by Edward Potthast, Francis Mora, Ella Lamb, Charles Curran, Henry Watrous, Oscar Fehrer, Helen Turner and Will Barnet among many others. The National Arts Club is proud of its early recognition of innovative art media such as photography, film and digital media.
The National Arts Club hosts both members-only and public events honoring exemplary leaders in their chosen fields of art as well as exhibitions, theatrical and musical performances, lectures and readings. Feature programs focus on visual arts, literature, film, architecture, fashion, photography and music.
For more information, please contact:
Jill Siegel, Jill Siegel Communications, Inc 917.214.1710, jillsiegelnyc(at)gmail.com
Angela Bernhard Thomas, Office of Fine Arts The National Arts Club 203-650-3686, angelabthomas(at)me.com
Socialize With Us:
http://www.thenationalartsclub.org
https://www.facebook.com/thenationalartsclub
https://twitter.com/NatnlArtsClub