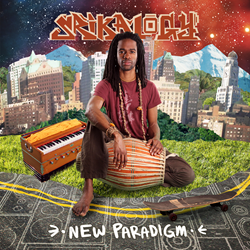 As Srikala notes with a smile, 'there weren't any monks coming out with albums.'
Boulder, CO (PRWEB) May 13, 2014
With musical influences ranging from Talib Kweli to Radiohead, Michael Jackson to Matisyahu, Jimi Hendrix to Tinariwen, and a spiritual foundation built upon his experience as a monk living in an ashram on New York's Lower East Side, Srikalogy is no ordinary MC/DJ/producer/percussionist. A self-described master of abundance and joy, he skateboards as life medicine, jumps over cars for fun, and creates music expressing his thriving exuberance for adventure. The Brooklyn-born and -based artist has established solid footing — and an equally solid following — by creating a unique hip hop sound rooted in confidence without bravado, and devotion without preachiness. The soul in his music is found not only in the rhythms, but in the energy and intention of each beat. "My music is about transformation," he explains. "So much so, that if you stripped away the music, that message is still there."
That message, for Srikalogy (aka Srikala Kerel Roach), is at the center of New Paradigm, his fifth studio album and first widespread label release, due May 20, 2014 on Black Swan Sounds. The album's 14 original tracks bear witness to the greatness hip hop offers when music and a message are cultivated in equal measure. To celebrate the project, he will perform album release shows on both coasts: on May 17th at a private event in Brooklyn, NY, and on May 21st at Zanzibar's Luminous Movement in Santa Monica, CA. (See below for details for both shows.) A video from the first single, "Introduce Me," premiered a week in advance of the record release, and two more videos are in production.
Raised by West Indian parents in the Bedford-Stuyvesant neighborhood of Brooklyn (where he still resides), Srikala naturally gained a deep love for listening to and creating hip hop, R&B, dub and reggae music. He recalls spending many days and nights in the basement of his New York home, making beats with his cousin. "That's just something we did growing up," he says.
His early days also found him immersed in the skateboarding lifestyle, much like another one of his "kick-pushing" musical favorites, hip hop mainstay Lupe Fiasco. Says Srikala, "I was skating a lot because I was up-and-coming in that scene. There was a lot of partying and I eventually burned out in that space," he recalls. "Ultimately, New York City beat me up."
Instead of coasting through self-destruction, Srikala chose to meet the city's challenge and find balance by taking a drastically different route: he spent six years living in an ashram on Manhattan's Lower East Side, dedicated to refocusing his life through spiritual instruction and meditation. "Whatever healing needed to happen started happening, and as it did, I started writing music again," says Srikala. As the music became increasingly prominent in his way of life, he was gently encouraged to leave the ashram and embark on the next phase of his journey because, as he notes with a smile, "there weren't any monks coming out with albums."
On his first foray back into the city that helped to shape him, Srikala trained in studio engineering at New York's Institute of Audio Research and, in 2011, began independently releasing records. His efforts produced four albums in less than three years, with each project placing equal significance on both the message and the music. His multiple talents have afforded him the opportunity to collaborate with artists around the world as an MC, producer and DJ. He is also the founder of Unitribe Productions, a community-based organization dedicated to creating socially-conscious nightlife events, and plays regularly with The Flowdown, a jazz-funk fusion band in which he is lead singer and percussionist.
In all of Srikala's expressions of sound, he seeks to bring a message of hope and inspiration, and defines his philosophy with ease: "I am a fan of the beauty of life."
This appreciation is lovingly and expertly displayed on New Paradigm. Srikala's sophisticated beat production and songwriting are seamlessly bound together by his skilled cadence and flow. Great studio work and craftsmanship are not the only constants on this ear-opening recording; its thematic consistency offers a rewarding straight-through listening experience. Themes of positivity, unity and appreciation are a common thread running through the entire album, with a sound to match the vibrancy of his everyday world: an ever-evolving, genre-blurring sonic landscape incorporating traces and elements of reggae, dub and dub step, global rhythms, down tempo and jazz, all naturally fused together through a forward-thinking hip hop sensibility.
In addition to the opening title track and "The Realness," highlights include "State of Mind" (featuring J Brave of California-based Luminaries), a hip hop record tingling with dubstep sounds promoting unity. "Radhe Govinda (DanceHall)" taps into Srikala's Caribbean roots, blending tones mellow enough for chilling out (or meditation), while "Take My Hand," featuring conscious rocker Trevor Hall, perfectly demonstrates how naturally a spiritual message blends with head-nodding beats. From start to finish, the 14-song project illustrates Srikala's varied musical influences, the complexities of his background and his current exuberance.
As he embarks upon the next stage of his own journey and transformation, Srikala accurately sums up what music fans of every genre have long known to be true: "Good music is good music," says the powerhouse of creativity. "It really just depends on how you present it."
New Paradigm releases 20 May. Pre-order from Black Swan Sounds, iTunes, Amazon and other music retailers.
See Srikalogy live:
What: Srikalogy: 'New Paradigm' East Coast Album Release Party
When: Saturday, May 17th; 7 p.m. to 1 a.m.
Where: RSVP for ticket link: newparadigm(dot)rsvp(at)gmail(dot)com
Tickets (with RSVP only): $10 before 10 p.m. day of show, $15 after 10 p.m.
What: Srikalogy: 'New Paradigm' West Coast Album Release Party
When: Wednesday, May 21st; 9 p.m.
Where: Luminous Movement at Zanzibar; 1301 5th St, Santa Monica, CA
Tickets: $10 at the door
New Paradigm Track Listing
1. New Paradigm 4:38
2. The Realness 4:38
3. Together Ft. Malia Kulp 5:18
4. Mountains 4:16
5. In Your Way Ft. Jesse Johnson 4:23
6. Take My Hand Ft. Trevor Hall 4:52
7. Dronesphere 3:41
8. State of Mind Ft. J Brave, Alokah, Arin Maya 4:14
9. Radhe Govinda (DanceHall) 6:40
10. Never Back Down 3:39
11. Ecstatic 6:54
12. C'est La Nourriture 5:27
13. Little Warrior - Ft. Malia Kulp 3:52
14. Introduce me (Radhe Shyam Se Milade) 4:47