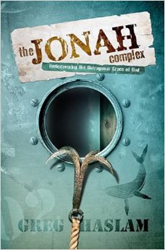 'Here is a book that is both learned and easy-to-read, well-researched and inspiring. Greg Haslam has done a masterful job in producing a work that deserves to be read by every church leader and every believer.' - Dr. R.T. Kendall
Shippensburg, PA (PRWEB) June 10, 2014
Destiny Image is pleased to announce the June release of "The Jonah Complex," by Greg Haslam.
The message of Jonah today is both provocative and prophetic. It serves as reminder that God has a passion for reaching people that far exceeds human understanding. It is a reminder that He is deeply affected by human sin and consistently seeks to win people back to Him by extending His outrageous grace to them.
"We all have something of Jonah in us," said Haslam. "Like him, we are often wrapped up in our own concerns. But God gave Jonah a wake-up call he would never forget, setting him back on the path to achieving his destiny – and He can and will do the same for us! We may have messed up on the past or feel disqualified from doing anything great for God, but Jonah's life is the ultimate evidence of the 'God of the second chance.'"
Haslam takes his reader's on a journey to help them understand and cooperate with the will of God and highlights the power of what even one person can do if fully surrendered to the Almighty.
"Here is a book that is both learned and easy-to-read, well-researched and inspiring. Greg Haslam has done a masterful job in producing a work that deserves to be read by every church leader and every believer. I pray that your mind will be challenged and your heart warmed by what you are about to read," said Dr. R.T. Kendall, R.T. Kendall Minsitries.
Interviews, review copies and giveaway copies are available upon request.
Greg Haslam is Minister of Westminster Chapel in London. He is a regular conference speaker and writer and has a real heart to bring the Word and Spirit together.
Destiny Image, located in Shippensburg, Pa, was founded in 1983 by Pastor Don Nori, Sr. It seeks to accurately represent authors who have a call to share God's present word to His people and to make these authors easily accessible to the Christian body around the world in every form of media possible.
For Press Inquiries, Interviews and Review Copies:
Kristen Adams
(717) 532-3040, Ext. 135
kadams(at)norimediagroup(dot)com