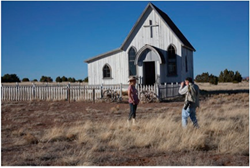 I knew I wanted to help others pursue the photographic arts because of the tremendous impact photography had made on my life
Santa Fe, NM (PRWEB) May 13, 2014
Since 1990, more than 18,000 participants and instructors have journeyed to Santa Fe to pursue their passion for photography at Santa Fe Photographic Workshops, which celebrates its 25th year of operation in 2014. Located in the picturesque high desert of Santa Fe, The Workshops offer state-of-the-art photographic education and cutting-edge technology to promote the study of photography. In celebration of their 25th year, The Workshops will celebrate with a water-themed photography contest honoring this valued resource; a percentage of contest proceeds will be donated to support of water projects in communities around the world.
Founder and Director Reid Callanan recalls arriving in Santa Fe in 1990 and knowing he had come to right place. He said he was astonished by the beautifully dry, warm days and cool nights of the high desert, and inspired by the city's rich culture and history.
"I knew I wanted to help others pursue the photographic arts because of the tremendous impact photography had made on my life," Callanan said. "I modeled our workshops on the Maine Photographic Workshops, where I started my career, and feel a sense of immense joy in knowing that we have been able to provide the kind of photographic instruction and artistic experience to as many students as we have."
In honor of The Workshops' 25 years of enriching lives through photography, a nurturing retreat course, 'The Project Workshop,' will be offered to photographers working on long-term personal projects. Instructor Elizabeth Krist, senior photo editor for National Geographic magazine, will lead the seminar-style workshop. Placing emphasis on each photographer's individual project, participants will receive camaraderie and support in achieving their vision, defining future possibilities for exhibition, and avenues for publication.
Santa Fe Photographic Workshops has grown to attract students from all 50 states and more than 27 foreign countries including Dubai, Korea, Egypt, Greece, Singapore, Brazil, Peru, Columbia, Argentina, Portugal, Spain, Denmark, The Netherlands, France, Switzerland, New Zealand, India, and Australia.
PHOTOGRAPHY CONTEST DETAILS:
Photographers of any level, who are at least 18 years of age, are invited to submit original images for entry into the 25th Anniversary Photography Contest for a chance to win prizes and be recognized by the Santa Fe Photographic Workshop's international community of photographers. Participants are encouraged to look to water for inspiration and to enter photographic imagery in any of the contest's themes: landscape, portrait, documentary and abstract. A portion of the contest proceeds will be donated to Artists of the World, a Rotary International affiliated organization that funds water projects in local communities around the world. To date, Santa Fe Workshops photo contests have inspired over 4,600 people from 62 countries to register and enter almost 18,000 images.
Photos may be submitted any time between May 20th and September 23, 2014 and winners will be announced by November 3rd. Each category will have a grand-prize winner and will receive prizes including $1,500 towards the Workshop of their choice and products from B&H Photo, Nikon, Chimera Lighting and other Santa Fe Photographic Workshop partners. The top 50 images will be displayed in the Workshop's online gallery and 46 honorable mentions will be named.
FOR MORE INFORMATION AND FOR CONTEST RULES, PLEASE VISIT THE CONTEST WEBSITE: http://www.santafeworkshops.com/contest/.
'THE PROJECT WORKSHOP' COURSE DETAILS:
Course is offered June 29 – July 4, 2014. Tuition is $1,245 per student and includes meal plan. For more information, please visit http://www.santafeworkshops.com/photography-workshops/workshop/1317.
CALENDAR OF ALL UPCOMING WORKSHOPS:
Santa Fe Photographic Workshops offers workshops throughout the year, in a variety of locations in addition to the Santa Fe campus base: http://www.santafeworkshops.com/workshops/workshops_calendar.php#summer.
For press inquiries, contact:
Lisa Neal
JLH Media
575 635 5658
Lisa(at)jlhmedia(dot)com
###
ABOUT SANTA FE PHOTOGRAPHIC WORKSHOPS: Located on a peaceful retreat center in historic Santa Fe, New Mexico, Santa Fe Photographic Workshops is a year-round educational center offering state-of-the-art photographic education to participants of all levels. Founded by Reid Callanan in May of 1990, The Workshops has grown to create a supportive, international community of students and renowned instructors from all over the world. Participants build confidence and achieve their photographic goals both personally and professionally through course offerings such as: The Basics, Landscape and Nature, Portraits, Lighting, Fine Art Documentary, Creative Vision, Darkroom and Alternative Processes, Multimedia, Travel, Digital Workflow and Printing, The Business Side, One-of-a-Kind, San Miguel de Allende, Cuba Cultural Exchanges, and On The Road. The beautiful Santa Fe facility offers six classrooms, including a 3000 sq. ft. studio and 750 sq. ft. digital lab, a dining room with outdoor dining patio, housing for eighty participants in private or semi-private rooms with baths, a store, and several administrative offices.
Photography workshops are offered from January through December in week-long or four-day workshops or two-day intensives geared towards beginners, amateurs, advanced amateurs and professionals. Courses range from beginning classes like 'The Basics' and 'Using your Digital Camera' to advanced courses such as 'Fine Art Digital Printmaking' and 'Zen & the Art of Photography.' The Workshops' popular 'On the Road' series offers destination-based photography workshops all around the US, as well as Mexico and Cuba, offering students the opportunity to focus on exploring the culture, people, wildlife and landscapes of remarkable places around the globe. For more information, please visit: http://www.santafeworkshops.com/.