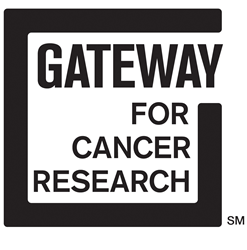 Schaumburg, IL (PRWEB) May 14, 2014
Gateway for Cancer Research, a nonprofit organization that has funded patient-centered cancer clinical trials for more than 20 years, is excited to announce a new logo that boldly declares what the zealous international charity is all about: cancer research that benefits patients today.
"Our mission is bold and our message is clear. We want to fund cancer research that helps people feel better, live longer or be cured today, said Teresa Hall Bartels, President, Gateway for Cancer Research. "It's important that our logo carries the weight of our powerful message that Gateway is demanding cures today for each and every person diagnosed with cancer."
The new logo emphasizes Gateway's name and positions cancer research as the focal point of everything the nonprofit does, which is driven by its high regard for patient-centered care.
Since 1991, Gateway for Cancer Research has held fast to its singular mission to fund the most promising and innovative cancer clinical trials specifically designed to address the needs of people living with cancer right now. To that end, Gateway seeks out leading researchers across the world who are pursuing new innovations and developing new treatments for all types of cancer.
"At Gateway, we quite literally open doors and create new possibilities for cancer patients who need better treatments, for researchers who are eager to innovate, and for generous individuals who want to make a difference," said Bartels.
Bartels adds that Gateway is a unique cancer research charity poised to make an immediate impact. Gateway encourages researchers to think outside the box and awards funding for new clinical trials year-round, ensuring that new ideas and emerging treatments can reach patients quickly, when it matters most.
What also sets Gateway apart from many other cancer research charities is its stewardship of donor contributions. Ninety-nine cents of every dollar Gateway receives goes directly to cancer clinical trials that are funded throughout the United States as well as abroad.
For more on Gateway for Cancer Research and the innovative, patient-centered cancer research studies it funds, visit http://www.DemandCuresToday.org. Find out how to get involved, shared your story and help fund one day, one week or one month of cancer research.
About Gateway for Cancer ResearchSM
Gateway for Cancer Research is a nonprofit 501 (c)(3) organization committed to funding innovative cancer research studies that can help today's cancer patients feel better, live longer or be cured. Thanks to generous underwriting by Cancer Treatment Centers of America®, 99 cents of every dollar Gateway receives helps to fund phase I and phase II cancer clinical trials at leading research institutions all over the world. Since 1991 Gateway has supported more than 120 clinical trials and funded millions in leading-edge research, including blending the best of conventional and complementary/alternative therapies. Get involved today by visiting DemandCuresToday.org, like us on Facebook at facebook.com/demandcures and join the conversation on Twitter @DemandCures.