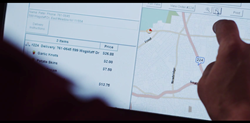 Needham, MA (PRWEB) May 13, 2014
Plus One Pizza of Ohio announced that they have completed deployment of FoodTec Solutions's DeliveryIQ system to all four of their stores. Plus One Pizza joined the pilot program for DeliveryIQ and initially installed into one store. Affordability, control and productivity drove the decision to make it standard in all locations.
"This is something I have been needing for a long time," says Bob Fettes, owner of Plus One Pizza. "The toughest part of the delivery business is the total lack of control managers have after the driver leaves the four walls of the store. Now I can track their locations, identify problem drivers and bundle and distribute orders amongst drivers much more efficiently.
"Other tracking technology was available in the past, but the cost of the hardware and software made no sense for a small restaurant chain like mine. The fact that it is, essentially, a free service that is part of the FoodTec POS -- and that there are no hardware costs -- makes it a slam dunk."
The DeliveryIQ product family is composed of the Driver App, the Driver Manager in the FoodTec 9.0 POS and customer-facing Online Order Tracker. Driver location and order status data from the DeliveryIQ app connect all three systems.
"After seeing the improved driver performance, our pilot restaurants very quickly wanted to make the DeliveryIQ system standard across all their stores," says Andrew Bounas, CEO of FoodTec Solutions Inc. "The system is designed to increase productivity and optimize what is one of the most difficult areas for restaurants to manage – delivery."
DeliveryIQ is free to all FoodTec POS 9.0 customers. For more information, go to http://www.DeliveryIQ.com or call 866-891-7232.
About FoodTec Solutions, Inc.
FoodTec Solutions Inc., founded in 1996, develops integrated restaurant technology for all aspects of restaurant operations including POS, online ordering, labor scheduling, and inventory, loss prevention, above store reporting, marketing, loyalty and gift card solutions. The company develops hospitality software and provides hardware, installation, implementation, training, integration, consulting and 24/7 technical support services throughout the United States. Learn more by visiting http://www.foodtecsolutions.com.
Press Contact:
Arielle Bounas, FoodTec Solutions Inc., 781-453-8620, arielle(at)foodtecsolutions(dot)com