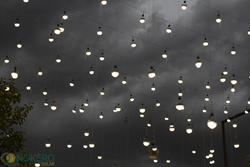 Denver, CO (PRWEB) May 20, 2014
Sustainable Brands leads a global community of business innovators toward sustainable decision-making, and they have just selected Nokero Solar as the Exclusive Lighting Sponsor for 2014 San Diego-based conference.
Nokero, short for "no kerosene," designs 'The World's Only Solar Light Bulb' and has led the way since 2010 as a globally recognized sustainable brand in 127 countries. They provide light to billions of people who do not have access to electricity, or who seek sustainable energy alternatives every day. Nokero aims to light the way to a sustainable future worldwide, with the help of corporate and non-profit partnerships focusing on social responsibility, lighting solutions, and sustainable branding.
At the Paradise Point Resort in California from June 2 to 5, 1,200 business leaders will collectively engage in dialogue and collaboration with the goal of shaping our world's future in a sustainable direction. The conference focuses on brands that successfully operate sustainable business practices worldwide. Through educational workshops, product demonstrations, and springboard discussions, leaders will gather to learn what defines and shapes sustainability among different industries.
The Sustainable Brands Conference (SB'14) focuses on reducing its environmental impact even during the conference itself. A zero-waste policy will be implemented by Waste Management, 100% of carbon emissions will be offset by Offsetters, CrowdCompass will provide mobile apps in place of paper maps and surveys, and solar-powered event lighting is provided by Nokero. Nokero lights will illuminate pathways, networking and event locations, and the conference's 'Activation Hub' expo center.
About Nokero
Nokero (short for "No Kerosene") designs, manufactures and collectively distributes safe, affordable, and environmentally friendly solar-based technologies. Our solar lights and solar battery chargers are high quality and low-cost, eliminating the need for harmful and polluting fuels around the world. Visit http://www.nokero.com for more information.