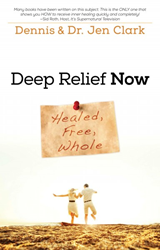 Many books have been written on this subject. This is the ONLY one that shows you HOW to receive inner healing quickly and completely. - Sid Roth
Shippensburg, PA (PRWEB) May 29, 2014
Destiny Image Publishing and Dennis and Dr. Jen Clark are pleased to announce their newest book, "Deep Relief Now."
"Many books have been written on this subject. This is the only one that shows you how to receive inner healing quickly and completely," said Sid Roth, host of the popular television program, It's Supernatural.
"A time comes for everyone when theories and mental exercises just don't cut it, and you need something more to heal your pain," said Dr. Clark. "It's time to go beyond merely easing the hurt, and move towards complete, deep relief!"
In "Deep Relief Now," Dennis and Dr. Jen Clark share Biblical tools that shows readers how to experience healing by living in the Spirit. This revolutionary new approach is a lifestyle adjustment that helps break the continuous cycle of pain, and step into a new way of living – free, healed and whole.
In this book, readers will:

Break unforgiveness in your life by developing the fruit of the Spirit.
Overcome negative emotions that keep from enjoying God's presence.
Experience supernatural peace and relief like never before.
"Because of Christ, you have received powerful tools capable of transforming the way you live," said Dennis. "This book will show you how to put those tools into practice, break the pain cycle and start living a healed lifestyle."
Dennis Clark has spent more than 35 years in the pastorate and itinerant ministry. Jennifer, his wife, holds a Th.D. in theology and Ed.S., M.S. and B.S. degrees in psychology. They have authored "Practicing God's Presence 24/7," "Deep Relief NOW," and a series of children's books, "The Great God Quest."
Destiny Image, located in Shippensburg, Pa, was founded in 1983 by Pastor Don Nori, Sr. It seeks to accurately represent authors who have a call to share God's present word to His people and to make these authors easily accessible to the Christian body around the world in every form of media possible.
FOR PRESS INQUIRIES, INTERVIEWS AND REVIEW COPIES:
Kristen Adams
(717) 532-3040, Ext. 135
kadams(at)norimediagroup(dot)com