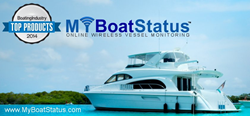 "The Boating Industry Top Products program recognizes products that offer new solutions and advance their category," said Boating Industry Editor-in-Chief Jonathan Sweet. "We picked products with an eye toward how they advance the boating industry."
Mechanicsville, Virginia (PRWEB) May 14, 2014
Scribble Software Inc.'s newest online wireless vessel monitoring product, MyBoatStatus, has been named as a 2014 Top Product award recipient by Boating Industry.
Editors of Boating Industry magazine selected the 2014 Top Products based on many factors, including innovation, impact on the industry, and how they advanced their category – or created a new category.
"The Boating Industry Top Products program recognizes products that offer new solutions and advance their category," said Boating Industry Editor-in-Chief Jonathan Sweet. "We picked products with an eye toward how they advance the boating industry."
MyBoatStatus is a revolutionary online wireless vessel monitoring platform providing a reliable, easy to use, and low cost monitoring solution. MyBoatStatus monitors the healthy status of vessels with over 40 different sensors including water detection, battery health, shore power, temperature, and motion detection using smart phones, tablets, computers or any online connected device.
MyBoatStatus is unique in the sense that the wireless sensors communicate with the cloud monitoring portal using cellular technology, thus bypassing the need for a marina to have wireless network access.
Another unique feature is the ability for marinas to offer MyBoatStatus to boat owners. Boat owners may monitor their individual boats directly, while the marina can also be equipped to monitor and be alerted of any issues with boats using their sensors.
MyBoatStatus also directly integrates with MarinaOffice, a leading marina management software solution, and the Marina Applications and Recreational Internet Applications Home (MARIAH) cloud platform for seamless marina and vessel management. MarinaOffice and MARIAH are also part of the suite of solutions offered by Scribble Software.
"It is truly an honor to be named as a recipient of the 2014 Boating Industry Top Product award," said Vance Young, Director of Technology at Scribble Software. "As a team, we are constantly striving to advance the technology used in better managing marinas and boat ownership. MyBoatStatus is a key vision that definitely fulfills a portion of that goal."
MyBoatStatus is poised for a very dynamic future with strong international interest as well as advances in sensor and cellular technology.
About Scribble Software Inc.
Scribble Software Inc. Is a technological solution provider for several business industries and is located in Mechanicsville, Virginia. Scribble Software produces and markets the MarinaOffice Suite of Solutions, a leading marina management software solution used throughout the globe. Scribble Software has risen as a leader in providing management solutions for the marina industry with the focus on providing solutions for all areas and departments of marinas. Scribble Software takes great pride in developing end to end enterprise level solutions backed by a support team second to none.
Contact
Tonia Stevens, Account Manager
8052 Elm Dr., Unit K
Office: 804-427-8100
Email: sales(at)posscribble(dot)com
http://www.MyBoatStatus.com
http://www.scribblesoftware.com